Also featured in:
Mentors Care presented Wes Dorough with the first ever Mentor of the Year Award for the 2020/21 school year. The award is named in honor of the late Carl Smith. Mr. Smith served on the Mentors Care Board of Directors, was a Midlothian ISD Board Member. He spent a great deal of time advocating for students at MISD and in the Mentors Care program and had a special place in his heart for the work of mentors.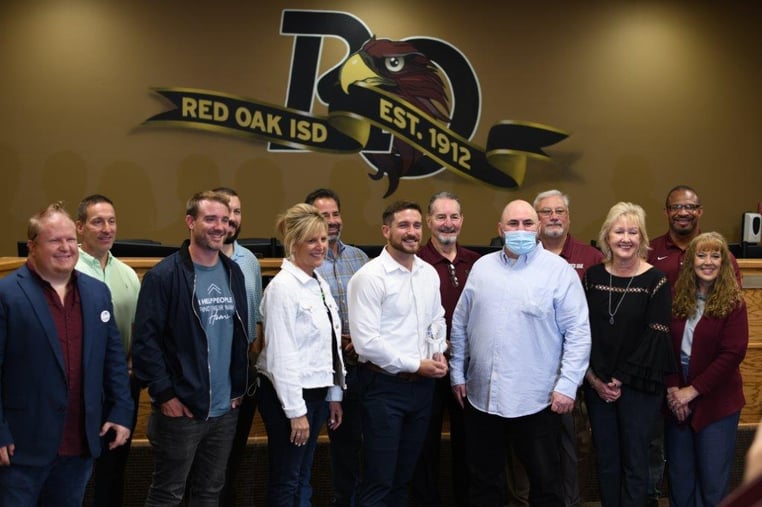 Dena Petty, Founder, and Sean Byars, Red Oak High School Campus Coordinator, and Red Oak ISD staff present Wes Dorough with the Carl Smith Outstanding Mentor Award
Sean Byars, Red Oak High School Campus Coordinator, shared this about Wes, "Wes has been a mentor at Red Oak High School for three years and has met with three students. He prepares for his next meeting starting right after they finish meeting and is always finding new resources that he can use to help his student. The first student that he mentored is in his 2nd year of college and is doing very well. His student from last year was Salvador, the student who came to Red Oak from the JJAEP program in Dallas and lost his mom to cancer. Wes was always available to him even on days that they did not meet and was always encouraging him. Salvador ended up graduating early and registered himself for college and is studying to be an accountant. Wes's passion for helping his student and others is very evident and his commitment to serving every student he has had is far above what we ask or expect. All his students have told me how great he is and that they love talking to him. I have so many great mentors, several from JHH but Wes stands out to me as one of the truly great ones. "
Wes works as a Construction Manager for JH Development, one of the six companies within the John Houston Family of Companies. Employees at the JH Family of Companies are encouraged to volunteer in the mentor program and in many other organizations in the community. Chip Boyd, COO of JH Development shares, "Wes is such an inspiration to me and to our team, whether shining God's light to our internal or external customers, alike. He has impacted me, personally, by being a joyful, hope-filled, loving guide and introducing me to the Mentor's Care program, 3 years ago, when he was a mentor and inspired me to become one, as well. I can think of no one that would be more deserving of this recognition and more capable of representing the standards of character and carrying on the memory of Carl Smith. I am blessed to work with him, daily, and the young people that he mentors are certainly blessed to have the opportunity to be guided by his genuine and Christ led heart."
About Mentors Care
Mentors Care comes to the aid of high school students considered to be "at-risk" of failing or not graduating from high school due to poor academic performance. They serve school districts in suburban and rural areas where there are little to no resources available supporting the social-emotional wellbeing and academic success of struggling students. Over the course of 8 months, mentors spend approximately 1 hour each week with their respective students, reviewing grades and assignments and assessing strengths and areas for improvement. Our mentors are specially trained and equipped with our proven 24 Talking Points© and other program materials designed to help students develop healthy self-perception and awareness of the many opportunities that abound in the world around them.
For more information about Mentors Care, and how you can become a mentor, visit https://mentors.care/