For the third year in a row, Red Oak, Texas-based John Houston Homes announced it is awarding a scholarship to a distinguished senior in the Waxahachie Independent School District (WISD).
The scholarship is part of its "Build Waxahachie Project" which is a joint program between John Houston Homes and Waxahachie High School designed to provide WHS students with construction experience up close and personal.
This year, John Houston Homes is supporting the Waxahachie High School Architecture adn Construction Science Program with a financial donation for consumable goods, as well as a $4,000 scholarship to a WHS senior who will be pursuing advanced education at a trade school, junior college, or university.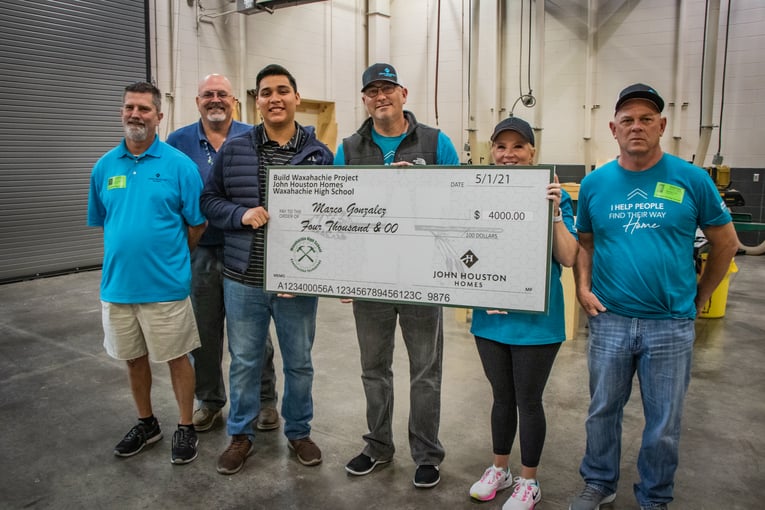 Marco Gonzalez receives $4,000 scholarship from John Houston Homes
Through this public-private partnership, John Houston Homes is hoping to spur student interest in the homebuilding industry and help bridge the often-discussed "skills gap" while providing priceless insight into real-world construction projects.
Students enrolled in the program have been visiting a specific John Houston homebuilding site weekly during the 2020-2021 school year with Curtis Green, an instructor in the Architecture and Construction program at WHS who is spearheading the "Build Waxahachie Project."
The 13 junior-year students have gained valuable knowledge as they watched a 3,000-square-foot home have concrete poured, a frame built, and ultimately come to fruition in the Waxahachie-area community of Springside Estates. The students helped on the jobsite in a variety of ways: cleaning, sweeping, moving supplies, and always observing and learning.
In addition to witnessing the four-bedroom, three-bath, three-car garage residence go from dirt to completed home, they have also had the chance to talk personally with subcontractors. Back on the WHS campus, students also listen to industry experts who deliver lectures and seminars on relevant construction topics.
"Over the years, the 'Build Waxahachie Project' has provided the students of the Construction Technology courses at Waxahachie High School an unbelievable opportunity to visit actual construction sites and witness the day-to-day processes of building a home," said WHS's Green. "The WISD Architecture and Construction Cluster offers students courses ranging from Principles of Construction to a Practicum in Construction. In the practicum course, they are partnered with an industry partner and allowed to work with that partner in the trade that they represent. The 'Build Waxahachie Project' allows students to see upwards of 30 different trades working on a house. That experience is unduplicatable in the classroom."
Beyond high school graduation, Green said the John Houston Homes scholarship affords long-term benefits for student recipients.
"This scholarship is amazing for the students who receive it," said Green. "The past recipient of this scholarship used it toward a drafting associate degree at Texas State Technical College (TSTC) in Red Oak. He was able to pay for all his classes with the amount he received. This year's recipient is planning to attend the University of Texas at Arlington and study construction management. This will help him pay for a couple of semesters of the courses he plans to take. He is planning to work in the construction trades while attending class to help pay for the rest of his courses."
Darren Renfro, John Houston Homes construction manager for the project, echoed similar sentiments about how the program is assisting students.
"The students had first-hand experience and were able to meet some of the subcontractors and ask them questions throughout the build," said Renfro.
Regarding John Houston Home's ultimate mission with the 'Build Waxahachie Project,' Renfro added, "We are hoping to introduce potential construction-minded individuals to the construction process in hopes that they pursue a career with one of the many trade opportunities involved in taking a home from paper to completion."