Why Classic Farmhouse Curb Appeal Endures
Heralded for its rustic charm, family-friendly vibe, and practical sensibility, the "modern farmhouse" style is one of the most beloved looks when it comes to American residential real estate.
In fact, according to a recent study by the real estate portal Homes.com, the modern farmhouse style took the top style spot in 42 of 50 U.S. states.
According to study respondents, the style was especially favored for being "aesthetically pleasing but not boring," "simple, cozy, and not too busy," and seeming like "a nice big home for a family."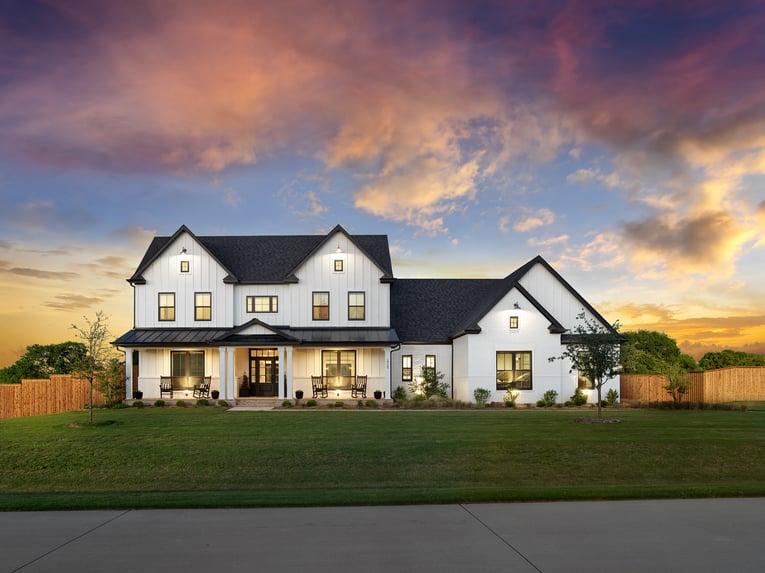 Vintage Charm with Farmhouse Exteriors
As this winsome style continues to stand the test of time, we at John Houston Homes are excited to announce our new "Farmhouse" elevations which include the Athens, Barcelona, Concord, Florence, Harrisburg, Hartford, Helena, Madrid, Melbourne, and Phoenix styles.
Available in select John Houston communities, our beautiful farmhouse elevations embody a vintage American look cherished and celebrated by so many, including Waco, Texas' own Chip and Joanna Gaines of HGTV show "Fixer Upper" fame.
Often dubbed the queen of modern farmhouse style, Joanna Gaines has inspired homeowners everywhere who want to foster an environment of unpretentious livability married with earthy, natural elements.
That is exactly the kind of look we are now pleased to offer.
Homeowners who choose a John Houston farmhouse elevation for their new home can expect a stylish exterior that delivers a modern farmhouse presentation through a steeply pitched roof with multiple gables, clean lines, expansive windows, and of course, the hallmark spacious front porch (or veranda).
In bygone years, breezy front porches were a must-have on farmhouses which were historically practical and functional. With beckoning rocking chairs and airy appeal, front porches served as an inviting outdoor space ideal for neighborly chats, enjoying a serene moment unwinding from the workday, or sipping sweet tea.
John Houston's farmhouse elevation summons that same nostalgic charm, enhanced through optional offerings including front porches, metal roof overhangs, black window casings, painted brick, board and batten siding, and more.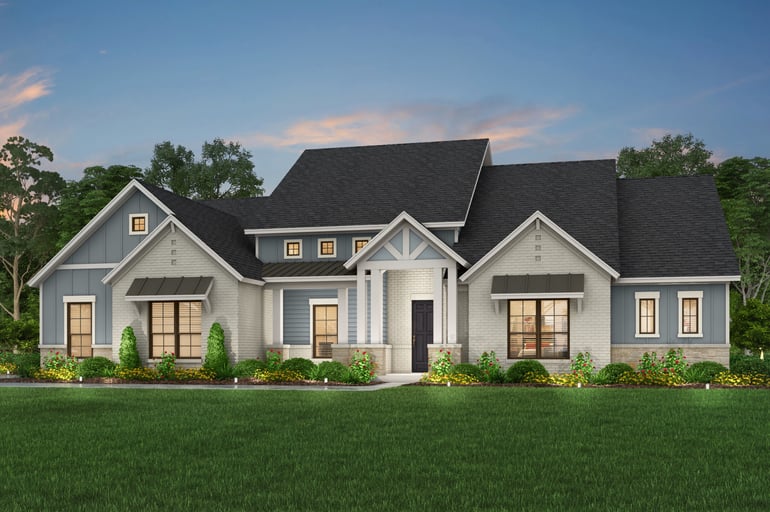 Barcelona Floor Plan
Modern Farmhouse Design Trends
To continue the farmhouse look inside the residence, homeowners who have contracted on a John Houston home will visit John Houston's 6,000+ square-foot Design Center during the homebuilding process to select design features and materials that will complement the exterior farmhouse elevation.
Inside the elegant Design Studio, homeowners can customize their home's character, choosing materials and finishes ranging from paint colors, flooring, countertops, and lighting elements to cabinet hardware, fireplace mantels, exterior stone and brick, stair railing, and more.
To achieve the farmhouse look inside their home, many homeowners upgrade certain design elements which might include a white apron-front farm sink, floating cedar fireplace mantel, decorative tiles in the utility room or powder bath, wood flooring, a shiplap fireplace, wood range hood, or white painted cabinetry.
Cedar beams across the ceiling, accent walls, and shiplap kitchen islands are also among some of the features that Lara Bailey, John Houston Design Studio manager, is seeing clients use to add visual interest and farmhouse character to their homes.
"Clients are interested in hardwood flooring, and natural, lighter woods are very popular," said the Design Studio's Bailey.
She added that many clients are opting to create a smooth, flowing look with continuous hardwood flooring that extends across multiple main-level rooms. They often choose engineered wood or vinyl planks, which are known for their aesthetic appeal and durability, to use across John Houston's contemporary open floor plans.
She noted that she is also seeing black-and-white or gray-and-white patterned tile being used in baths and wet areas.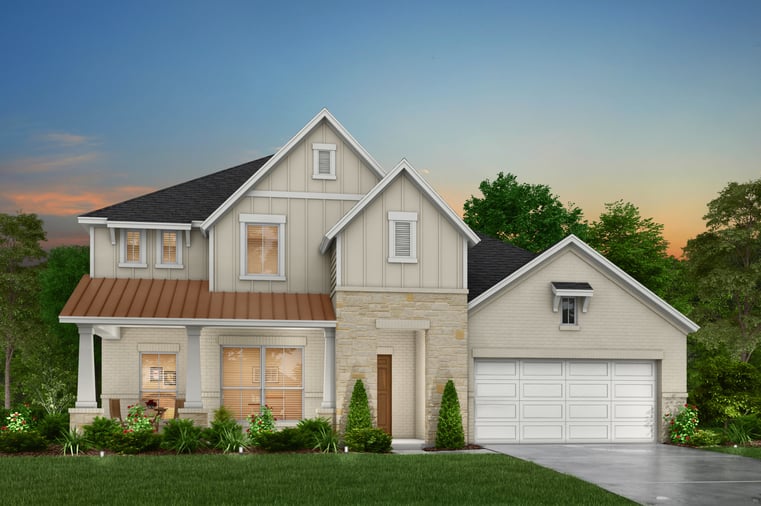 Concord Floor Plan
Yesterday's Grace
Other design styles clients are employing to achieve a farmhouse feel include crisp white kitchen cabinets, islands painted in cool gray, and stone and brick surrounding fireplaces.
Additionally, light-colored granite, quartz, and dolomite have been prevailing materials used for kitchen countertops to add to the sleek, modern farmhouse feel.
Small details such as faucets, light fixtures, doorknobs, and cabinetry hardware can also help to infuse yesterday's rustic appeal into a home.
When considering metal finishes for a farmhouse-styled home, the following options could easily lend an old-world look to kitchens, baths, and more:
Oil rubbed bronze

Stainless steel

Brushed nickel

Chrome

Antique copper

Champagne bronze
At the end of the day, there is truly an endless array of elemental combinations when it comes to bringing your modern farmhouse look to fruition.
Ultimately, most homeowners seeking a farmhouse-look dream of a relaxed, functional, no-fuss atmosphere that whispers livability, comfort, and uncomplicated, chic style.
Think distressed décor, chippy furnishings, sliding barn doors, and open shelving complemented by ornate lanterns, mix-and-match antique pieces, and untamed wildflowers tucked into an enamel coffee pot.
Whatever your farmhouse vision, John Houston Homes can lay a beautiful foundation for your special story.
No wheat fields necessary.
Interested in one of these new farmhouse elevations? Talk to a community sales manager to find out more about this new look!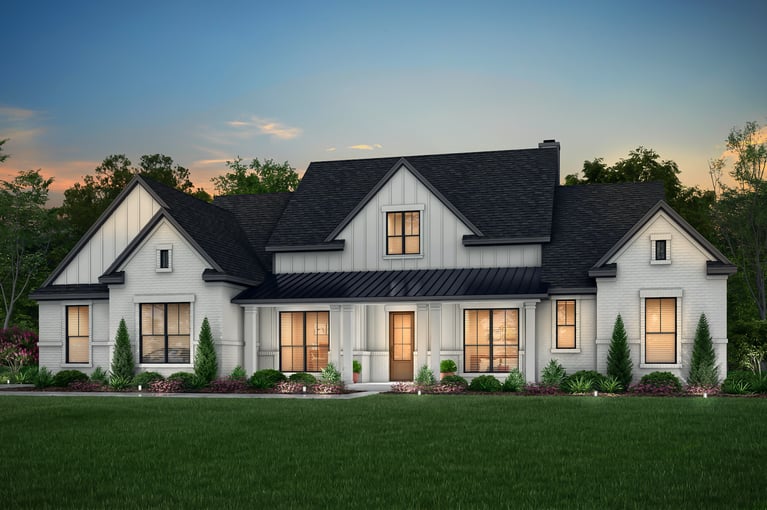 Athens Floor Plan