Hometown Hero Program for New Homes
Your job is to help others. Our job is to help you. With our Hometown Hero Promotion available to Military & Veterans, Emergency Services, Healthcare Workers and School District Employees, we offer additional incentives to help you purchase a home.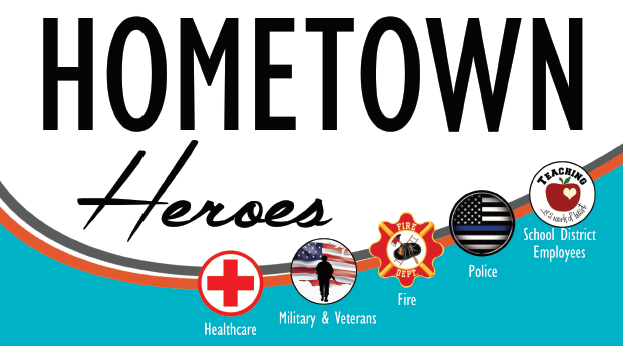 Interested in Building a New Home?
For Hometown Heroes, we will give you an ADDITIONAL $2,000 to use towards Design Studio upgrades - on top of the normal Design Studio Incentive!
Wanting a Move-In Ready Home?
If you don't have the time to build a home, we offer several homes that are either move-in ready or currently under construction that are available in a couple of months. For these homes, we offer an upgrade of your choice: 2" Faux Wood Blinds throughout the home or a Stainless Steel Side-by-Side Refrigerator!
PLUS: Whether you're purchasing a move-in ready home or wanting to build a home - Trinity Oaks Mortgage will pay Lender's Title Policy AND $1,000 towards closing costs when used!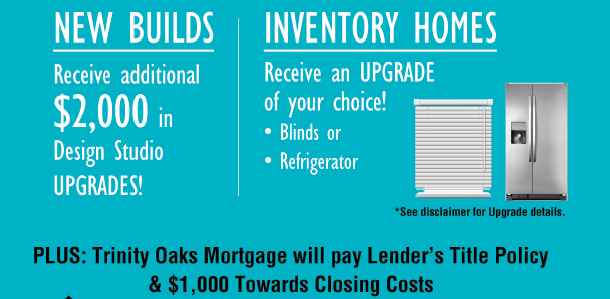 Want to find out more about our homes and communities we build in? Contact one of our New Home Advisors today! 866.646.6008 or info@jhoustonhomes.com.
Disclaimer: John Houston Custom Homes: Offer valid through August 31, 2020, on full price offers on homes. Contract must be written and fully executed on or before August 31, 2020. $2,000 Design Studio Incentive will be provided by John Houston Custom Homes. Hometown Heroes program for additional $2,000 in Design Studio Upgrades is in combination with normal community Design Studio Incentive. Choice of Blinds or Refrigerator will be provided by John Houston Custom Homes. Packages limited to specifications listed on this flyer and cannot be substituted for other models, discounts or cash back. Blinds include all windows except for the exterior doors and attic windows. Refrigerator Includes Model #: WRS315SDHM Whirlpool 36-inch wide Side-by-Side Refrigerator 24 cu. Ft. This Promotion Flyer must be part of the original executed contract. Cannot be combined with any other offers or previous contracts. Offer not valid on homes already sold or under contract. Sales price and offer can change at any time without notice. Must be able to provide proof of current employment or status. See John Houston Custom Homes Sales Manager for more details. Trinity Oaks Mortgage, is an affiliate of John Houston Custom Homes.