The Houston Solution - Mortgage Interest Rate Lock Program
Worried about unpredictable mortgage rates?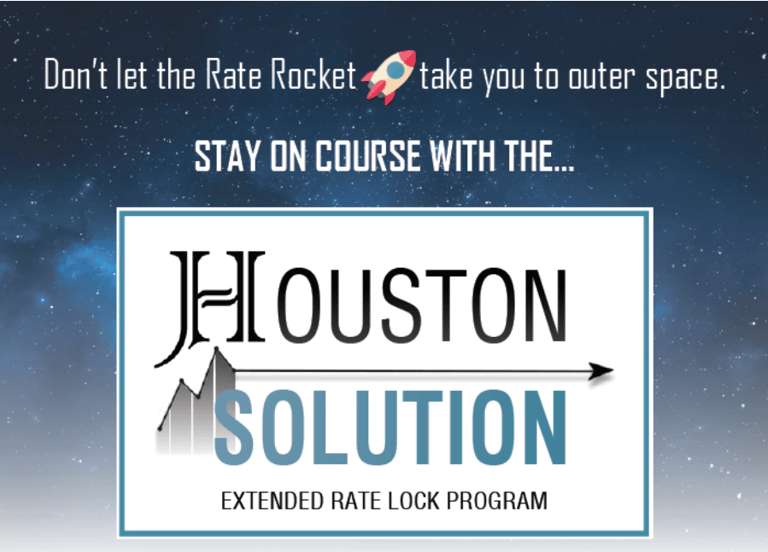 Throughout the day, mortgage interest rates are constantly moving up and down. During the underwriting and processing of a mortgage, rates can fluctuate enough to potentially cost or save you thousands of dollars over the time you hold the loan.
Participating in a mortgage rate lock program is a way to keep your home loan's interest rate from moving higher before closing.
If you're pre-approved for a home loan at an interest rate you're comfortable with, and the resulting monthly payment fits your budget, that's the time to consider locking your rate. The benefits of a rate lock far outweigh the risks. An interest rate lock isn't about getting the best loan deal, it's about protecting your homebuying power.
Trying to predict home loan interest rates is like forecasting the stock market: It can't be done. Rates are up one day and down the next. Even noted economists who insist on declaring long-term trends are often wrong. Get the best rate you can earn and lock it in.
The Houston Solution is your answer. Now, you can lock today's interest rate for up to 210 days!* Plus, receive a one-time float down option if rates are lower 30 days prior to closing. Call us today to take advantage of this limited time offer from Trinity Oaks Mortgage!
That's one small step for your peace of mind...and one giant leap for your pocket book!
Contact us today to learn more about this great program and how you can take advantage of it.
* Cannot be combined with any other offers. Rate lock offered through Trinity Oaks Mortgage, Equal Housing Lender. NMLS# 1443326. Subject to borrower qualification. Valid on firm non-contingent purchase agreements. The current market rate can be locked for up to 210 days upon receipt of all deposit monies due to John Houston Custom Homes, including $1,000 deposit credited back at closing, completion of all selections at Design Studio, and receipt of all documentation required by Trinity Oaks Mortgage to enable loan approval. Should rates be lower 30 days prior to closing, a one-time float down rate can be used at no additional cost. Trinity Oaks Mortgage, LLC cannot anticipate whether the interest rates will go up or down during the loan-processing period. Any decision to lock or lock/float down should be based upon your own evaluation of the market. Locking your interest rate does not constitute loan approval and it does not guarantee that you will qualify for the loan program you have locked. If your loan request is denied for the program you have locked, your interest rate lock will no longer be valid or transferable to other loan programs or lenders. The one-time float down must be within 30 days of the scheduled closing date. Once the float down is requested, the new lock expiration date will be adjusted accordingly. Application and intent to proceed must be made. This is not a commitment to lend or extend credit. Not redeemable for cash. All loans are subject to credit approval. Not all loan products are available in all states. If the loan does not close with Trinity Oaks Mortgage for any reason, the $1,000 deposit is forfeited. Trinity Oaks Mortgage, NMLS# 1443326, is an Equal Housing Lender located at 420 Century Way, Suite 100, Red Oak, TX 75154 866-429-5010 www.nmlsconsumeraccess.org.