You've decided it's time to build your dream home, but one big questions remains... Where?? On this episode Whitney and Chelsi provide all the tips and tricks for those looking to buy or build in a new location. Listen in as they describe the many John Houston Homes Communities in the DFW and Waco area and why you should consider these communities for the location of your new home. If you're a relocation buyer, this is an episode you won't want to miss!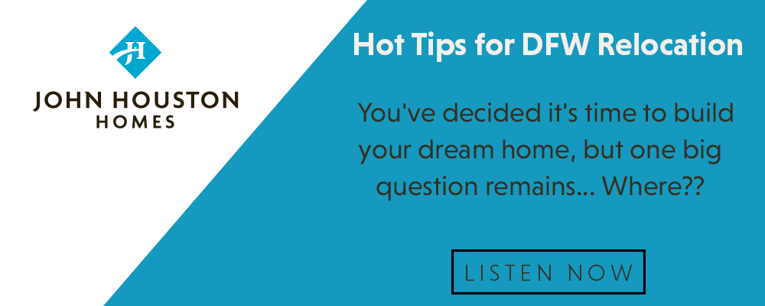 S2 Ep9_Hot Tips for the DFW Relocation Buyer (Whitney Pryor & Chelsi Frazier).mp3
Intro: [00:00:03] Welcome Home, a podcast brought to you by John Houston Homes. Join hosts, Chelsi Frazier and Whitney Pryor, as they walk you through the exciting adventure of your home buying and building journey.
Whitney Pryor: [00:00:18] Great to have you back for another episode of the Welcome Home podcast. I'm Whitney and I have Chelsi here with us. We are excited to have you back on this podcast and tune in to another great episode. Chelsi, how are you doing?
Chelsi Frazier: [00:00:34] I'm good, how are you?
Whitney Pryor: [00:00:36] I'm doing great! It's starting to warm up a little bit. I can see the temperatures rising, which is so much better than that wonderful, winter blast that we had.
Chelsi Frazier: [00:00:47] Yes, so much better. there's hope.
Whitney Pryor: [00:00:50] Absolutely! What are we talking about today?
Chelsi Frazier: [00:00:53] You and I have had this conversation so many times and I hear you talking to people on the phone about it, so we feel like this is really great content for our listeners. It's relocation and the relocation buyer. What are the things that people ask when they're relocating? If somebody is asking, there's probably a lot more people wanting to know the same thing. I'm to kind of Q&A you on some relocation buyer questions and just talk through those things today.
Whitney Pryor: [00:01:21] Yes, absolutely. Our relocation buyers, it's tough. It's tough living out of state and not knowing the area that you're planning to move to. There's so many questions that come up that are much bigger than just the home that you're buying. I think that's going to be a great topic to talk about and get some of those common questions out of the way.
Chelsi Frazier: [00:01:46] Yeah, because it's one thing to be moving from Dallas to Fort Worth, Midlothian to Waxahachie or Waco to Dallas. If you're moving from a completely different state, there's just even requirements with real estate that are different from state to state, so great things to talk about.
Whitney Pryor: [00:02:06] Definitely! Most of our communities are going to be in the Dallas-Fort Worth Metroplex. The other Metroplex we build in is in the Waco-Temple area. Most of our communities are going to be in those different areas. There's different cities that are in the Dallas-Fort Worth Metroplex, as well as, the Waco area. For the Dallas Metroplex, we build in Burleson, Mansfield and Midlothian and Waxahachie. As for the Waco area, we build in Hewitt, Temple, McGregor and Robinson areas. We have a whole bunch of different cities, but they all belong to one common Metroplex. The different cities have different characteristics.
Chelsi Frazier: [00:02:59] Important to note: we are building Townhomes in Arlington. I know you were talking about homes, but I want to point out we've got Townhomes coming in Arlington.
Whitney Pryor: [00:03:09] Definitely, which is super exciting!
Chelsi Frazier: [00:03:10] Very exciting! It's called The Preserve on Kelly Elliott. We will actually have a podcast episode about The Preserve Townhomes coming up soon.
Whitney Pryor: [00:03:17] I know a lot of people have questions about that for sure.
Chelsi Frazier: [00:03:20] Yeah, but back to the communities that we build homes in.
Whitney Pryor: [00:03:24] We have a Burleson, which is South of Fort Worth. That community is a suburb of the Fort Worth area. It typically takes about 30 minutes to commute from Burleson into downtown Fort Worth. It's a growing city, but also still kind of has that suburban, small town feel.
Chelsi Frazier: [00:03:45] Does the Chisholm Trail go through Burleson?
Whitney Pryor: [00:03:47] Yes, it does. There is a Chisholm Trail Tollway that goes through Burleson and connects you up to the Fort Worth area. It can get you there very quickly, which is really nice. We also have 35, which is a main interstate that goes through Burleson, that you can use as a commute road into Fort Worth. Of course during traffic that can get back up, so if you want to take the Tollway, you can and it will save you a little bit of extra time.
Chelsi Frazier: [00:04:20] Yeah, it's a great location.
Whitney Pryor: [00:04:22] Our next city over would be Mansfield, which is a little bit closer into the Arlington area. Arlington is in between Fort Worth and Dallas. Mansfield is the next market area. Mansfield and Arlington are very close to each other, so they are almost the same market area there. Mansfield is a little bit pricier to live in, however, you also have a shorter commute time to Dallas or Fort Worth with it being right smack dab in the middle.
Chelsi Frazier: [00:04:53] Yeah, you've got really quick access into both because you've got 360 toll coming all the way down to 287 and Mansfield.
Whitney Pryor: [00:05:00] Both of those areas are really great! If you are commuting into downtown, they're going to get you to the airport really quickly. They're going to get you to some of those larger industries and those larger manufacturers that are in downtown, very, very quickly. Another great thing about Mansfield is their school district.
Chelsi Frazier: [00:05:20] Oh, yes, I thought you were going to say Hawaiian Falls!
Whitney Pryor: [00:05:23] That too! There is a great little water park in Mansfield. The school district in Mansfield has what we call Magnet Schools. They have several specialty schools. If your kiddo is in High School and looking to go into the health care industry or into a fine art -theater, art, band or music, there are different High Schools that specialize in those different areas.
Chelsi Frazier: [00:05:55] That's awesome!
Whitney Pryor: [00:05:57] Yes, a lot of people move to the Mansfield area for those school districts. The price point is a little bit higher, with it being closer into the city area and just being a really desirable area. but there is every convenience you can think of. We've got Target, we've got Wal-Mart, we've got movie theaters. We've go tons of restaurants and shopping. If you need all of that, then it is a really great area. The next area that we build in is Midlothian. That is just East of Mansfield. Midlothian is kind of closer to the Dallas Metroplex area vs. Fort Worth. Midlothian is a great option. If you want that smaller town feel and you don't want to sacrifice the value of your children's education, a lot of people move to Midlothian because they really do have great school system. Even though it's a little bit smaller, your child's going to get more of that one on one feel, more of that small town feel where you really know the teachers and the administrators of the school. A lot of people think that's very important. It's also really great if you want a little bit more land. In Mansfield, things are a little bit pricier, but for the same price in Midlothian, you might get twice the size of your home site. If you're wanting a little bit of land and you don't want to sacrifice the school district, Midlothian is a great option.
Chelsi Frazier: [00:07:24] Yeah, Midlothian is also very fast growing. I live in Midlothian and I know you live not too far from there. We're going to talk about upcoming communities in Midlothian in another episode, because there is so much development and there's a lot of farmland under development. Some of that land is starting to be sold and developed. While it's small and has that small town feel, we are getting more restaurants, shopping and grocery. I just have to second your the school district being very considerate of growing with integrity and still keeping those values.
Whitney Pryor: [00:08:00] Absolutely! Another great thing about Midlothian is that it's located directly on 287, which will take you into Fort Worth. Also you have Highway 67, which takes you straight into downtown Dallas. If you're a family where one of you works in Fort Worth and one of your works in Dallas, Midlothian will be a really great option.
Chelsi Frazier: [00:08:21] Yeah, right there in the middle.
Whitney Pryor: [00:08:23] Yes! Our next community East of Midlothian is Waxahachie. Waxahachie is located off of Highway 287 and I-35 East, which goes into Dallas. The great thing about Waxahachie, why I fell in love with it and live in Waxahachie, is the historic feel. This town was built on the cotton industry in the late 1800's. It has a great downtown area with a beautiful historic courthouse and a thriving, historic downtown area with lots of boutiques and businesses. A lot of people from the Dallas area come to Waxahachie for weekend getaways because it's just really beautiful. They have a lot of different events, including 4th of July parades.
Chelsi Frazier: [00:09:19] I've never seen a town that had so many parades as Waxahachie. I think they have a parade for everything, truly.
Whitney Pryor: [00:09:24] We love our parades! It's also well known for filming industry. There's a lot of different movies and shows that have been filmed in Waxahachie.
Chelsi Frazier: [00:09:35] Places in the heart.
Whitney Pryor: [00:09:36] Yes, how could we not forget that? It's a great little area and it has been established. There is Target, Home Depot, Lowe's, Starbucks, all of those places that you would expect. It's pretty close to Dallas, so it's definitely commutable for Dallas. School districts are equally as great. It is definitely a growing town and just really wonderful if you want all of those modern conveniences that you expect from a city, but you don't want all of that commute time and and driving around in the city. It's a really great area.
Chelsi Frazier: [00:10:15] I feel like when you're in Waxahachie, you just feel rooted. You just feel like, okay this place has been here a long time. This is very historic, there's stories and there's people who have lived there generation after generation. It's just a really cool feeling you get, even drive down Main Street.
Whitney Pryor: [00:10:35] Definitely! I've never seen a larger historic district. If you really love historic homes and driving down Main Street to look at those homes built in yesteryear, Waxahachie has blocks upon blocks of those homes. It is just so beautiful. The homeowners have maintained those homes and kept up with them. It's just a really great small town feel.
Chelsi Frazier: [00:11:00] Yeah, absolutely!
Whitney Pryor: [00:11:02] The next market area that we build in is in the Waco and Temple areas. Waco and Temple are about halfway in between the Dallas area and the Austin area on I-35. It's about an hour and a half from Dallas and an hour and a half from Austin. Most people know that Chip and Joanna Gaines live in Waco, don't we love them?
Chelsi Frazier: [00:11:27] Yes, I think anybody listening anywhere knows Waco-Chip and Joanna Gaines.
Whitney Pryor: [00:11:32] Absolutely, I think they practically own the city there. If you want to call it a city, but really it's a town. It's a great little area, lots of different homes there and different, unique styles of homes. It's a little bit bigger. It does have a college there, Baylor, as well as, many health care options in Waco, so it has a little bit larger industry there. It is great for people that either have to often go into Dallas or to Austin for business. It makes it a great kind of halfway point.
Chelsi Frazier: [00:12:15] Yes, it's right in the middle.
Whitney Pryor: [00:12:16] With Waco, if you're not familiar with the terrain and the area, the Brazos River goes through the Waco area. It has a lot of great outdoor recreation. They have a great park called Cameron Park, as well as, a zoo. If you're a fan of Dr. Pepper, there is with Dr. Pepper Museum there. If you're not from Texas, you might not be a fan of Dr. Pepper yet, however, as soon as you move here, we will have you become a fan.
Chelsi Frazier: [00:12:45] Yep, in no time.
Whitney Pryor: [00:12:46] It's a requirement.
Chelsi Frazier: [00:12:47] They've got Lake Waco, that's a pretty sizable lake there, too. There's some fishing that you can get done on Lake Waco and hiking.
Whitney Pryor: [00:12:55] Yes, I know a lot of wake borders really like the Waco area as well. It's a great recreational spot.
Chelsi Frazier: [00:13:02] There are many, many great communities to choose from and lots of good information. I know we just kind of hit the high notes, but all of these places have really great economic development chamber city websites that you can check out and learn more about those cities. Let's just jump into some of the questions that people call in and ask the Online Sales Team about. I think a big one that you get is about real estate agents and how that's different from state to state. Do you have to have one, etc., so you want to touch on that a little bit?
Whitney Pryor: [00:13:32] Absolutely. Different states have different rules and mandates, as far as, real estate agents go. In Texas, as a new home builder, you actually don't have to have a real estate agent to sell a new home. A home builder can actually sell the home without a real estate agent. Does that mean that you don't need one? No, that doesn't mean that, it just means it's really up to you as the home buyer, whether you want to have a real estate agent represent you outside of that contract or not. We know that moving out of state can be a big thing. We know it takes a lot of effort and a lot of research. It's really going to be up to you whether or not you want to use a real estate agent or not.
Chelsi Frazier: [00:14:16] Before we get too deep into the podcast, I think that's important for the listeners to know. The reason we're doing this is because we want you to know we have worked with a lot of relocation buyers, either from a very far away part of Texas and even a lot out of state, so please know we've done this before. We've talked about all these things with our clients. We'll keep talking about stuff, but just know this is nothing new for us.
Whitney Pryor: [00:14:46] Absolutely. With relocation buyers, a lot of times you got some questions about the different areas. Which communities would be better for you? We have a great Online Sales Team that would be happy to explain, go through those different areas and help find what might be best for your family and your situation. Everyone's a little bit different. We know all of the communities like the back of our hands. We're a great resource as far as answering questions about what the differences are in the different communities.
Chelsi Frazier: [00:15:18] Yes, sometimes y'all are talking to people for 12 months before they even come down to start looking in person.
Whitney Pryor: [00:15:25] Absolutely, sometimes we know people on a first name basis. We enjoy that because it's like we're becoming a part of their family for a short period of time. We really get to know them, what their situation is, why they're moving, what new job position they're taking, and we enjoy that. We know sometimes it takes 10 months to a year to make that process happen and move out of the state. We're happy to take those phone calls every day. It's like we're joining your family for a little bit of time. We really enjoy getting to know you, your family and what your lives are like.
Chelsi Frazier: [00:16:03] I know we talked about the great school districts. I know you tell people a lot about considering schools for property value, the area you live and how that determines what school your children will attend. What do you tell people on that?
Whitney Pryor: [00:16:20] Yes. In Texas, different states work different ways, but in Texas, our school zones are called ISD's. A lot of times on our website or other websites you'll see which ISD the school belongs to or the community belongs to. That just stands for Independent School District. Typically in a town or a city, you'll have such as Waxahachie, Waxahachie ISD, which just means that we have a host of different schools within Waxahachie. Inside of that, you have your different communities and each community is zoned to different schools. In a really small town, you might just have one Elementary, one Middle School and one High School. Whenever your town starts growing and you're in a little bit larger city, you have multiple Elementary schools and those are divided up by different areas or zones based on a map area. A lot of times the different schools will have websites that show you which schools are zoned to that community. If you're looking at a different community or our different communities on our website, you can actually go to the Waxahachie ISD page and see on a map which schools are zoned to that community. Most school districts will have that available on their website where you can look that up. You can also call them if you can't find a map. They'd be happy to look up the address and tell you which schools are zoned to that particular address.
Chelsi Frazier: [00:17:54] Yeah, the schools are always very willing to help you up front to know exactly where your kids are going to go to school before you move there. There's nothing worse than moving somewhere, thinking you'll be at one school and finding out that you're at another. It's not something you can change, it's by address.
Whitney Pryor: [00:18:11] Yes, absolutely. Something else to consider with the school zone, even if you don't have children in school zones don't matter personally to you, you should still consider it whenever you move because of your home value. Better school districts or better school zones will have a higher property value than other areas with schools that don't perform very well.
Chelsi Frazier: [00:18:34] Okay, so speaking of taxes and property taxes, is Texas very different in taxes than say California or other states?
Whitney Pryor: [00:18:45] Yes, there are some big differences to consider when it comes to the property tax rates in Texas. In Texas, we do not have state taxes, but we still have to get that tax money from somewhere, so basically that's going to come from your sales tax. We do have a sales tax whenever you purchase items at the store. Also, we have a different property tax rate. Our property taxes typically are a little bit higher just because we don't have that state tax as well. Our property taxes are made up of three different tax rates. Those three different tax rates are your school taxes, your county taxes and your city taxes. All three of those are different rates and when you add them together, that is what makes up your property tax rate. Depending on whether you live in the city or outside of the city limits, is going to determine your tax rate and which city you live in.
Chelsi Frazier: [00:19:46] If you live in a county, you're just going to have that county tax in the school tax, you're not going to have county, city and school?
Whitney Pryor: [00:19:53] Correct. Everyone will have a school tax, but depending on whether you're within the city limits or outside of the city limits, will determine whether or not you have that city tax added. An advantage to living out in a rural part of a city is that you only have county taxes. Some of our 1-acre properties, a lot of people really like to live there because they're paying a 2% tax rate instead of a 2.64%. That makes a big difference whenever you're looking at those higher valued homes. Another thing with taxes, is a lot of people don't know how to calculate that property tax rate.
Chelsi Frazier: [00:20:33] Yeah, that's me!
Whitney Pryor: [00:20:35] If you're just trying to get kind of an estimate of what that property tax rate is going to look like on a month to month or yearly basis, then the way that you would calculate that is first figure out what your tax rate is for that particular area or community, and then multiply it by the total value of the home. That will be your yearly tax rate. In Texas, we have a couple of different ways to handle taxes. You can either pay that yearly tax rate up front during tax season, around April time frame, and pay it as a lump sum. Texas also has where you can have it come out of your mortgage payment. It's basically held in an escrow account and that escrow account pays your property taxes for you. I definitely suggest that a lot of people that have mortgages in this area use that. That way, you're not taking a big hit at one time per year and it's just kind of coming out of your monthly mortgage. The other thing that gets put in escrow sometimes is your HOA payment as well, if you have one.
Chelsi Frazier: [00:21:44] Okay, speaking of HOA, because I don't know, is that a term that's known everywhere in the 50 United States? Is it called different things in different states? What do we call HOA? What is it? What does it do? What are the benefits?
Whitney Pryor: [00:21:59] Definitely, an HOA stands for Homeowner's Association. If you have never heard of that, it's basically an association created for each community. It is a way to protect the value of your home, that's the ultimate end goal of an HOA. It's an association with members that live within the community and they have certain rules and regulations about living there. Typically, it's things like you can't paint your house pink. You can't keep your trash out in in front of your yard.
Chelsi Frazier: [00:22:34] You can keep your yard mowed.
Whitney Pryor: [00:22:35] You have to keep your yard mowed, maintained really well. They do that to protect everyone's value of their homes in that community. You don't want to move into a home and then the neighbor paint their house purple, because then that's going to decrease the value of your own home. It protects you as the homeowner. It keeps the subdivision looking really clean and nice.
Chelsi Frazier: [00:22:58] HOA'S do not exist in every community?
Whitney Pryor: [00:23:01] Correct. There are some communities that don't have HOA'S. A lot of new communities will have them, however, there are still some out there that don't HOA'S. In that case, the rules and regulations are determined by the city and what the city will and will not allow. The other neat thing about HOA'S, is that many communities will have specific community amenities. Within a community you might have a pool, a playground, sidewalks, parks and all of those things are great for the residents, but they have to be maintained. That HOA fee that you pay either monthly or yearly goes towards the maintenance of those things. If you don't live in Texas, then you don't know how hot it gets in the summer. If you aren't willing to fork out $40,000,00 or $50,000,00 for your own pool, it is really a big advantage to have a community pool in your neighborhood that you can go relax and cool of in.
Chelsi Frazier: [00:24:02] Okay, so I hear people ask you, why don't you have basements in Texas?
Whitney Pryor: [00:24:08] I get this question a lot from people that live up North. They want to know why don't we build basements? The advantages, of course, to having a basement is you get that extra square footage. They want to know why are there no basements in Texas? I thought that was really strange, too. There's a couple of different reasons. I'm just going to go ahead and throw it out there so that you know exactly why. The biggest reason is the expansive soils. In Texas, we either have rock hard limestone that you have to drill into and cut out, which is very costly, or we have clay soils. Clay is a lot like a sponge. When it's dry, it's very small and shrinks, but when the clay gets wet from rain, it expands like a sponge. With the soils expanding and contracting constantly during our heavy rainfalls vs. D=dry spells in Texas, basements can't hold up in that type of soil condition. A lot of times it leads to a pretty costly maintenance ,as far as ,cracks and things like that for a basement. The other big reason is the frost zone or the frost line. Up North, they deal with a lot of cold conditions. In Texas, it very rarely freezes and so our frost line is basically nonexistent. Up North, you have to build foundations below the frost line so that your plumbing doesn't freeze up in the Winter. That's why they build basements, because they have to dig below the soils so that your pipes don't freeze up. In Texas, we don't really have the frost line. We only had to build maybe a foot under the ground for our foundation. It's not worth that extra cost to keep going and building a basement, which is a pretty big cost. How we make up for not building basements is two ways. Number one, we have a lot of two story homes. With our two story homes, a lot of them have a game room and that is that extra space that you would typically use as a basement. It's where the kids go and hang out, play video games or you have guests stay up there. It's a lot of extra square footage. We do make up for it with our floor plan options and our layouts. Also in Texas, our garage is like a second living room, really.
Chelsi Frazier: [00:26:37] It's not for cars.
Whitney Pryor: [00:26:38] It is not. You will drive around in Texas and see that everyone parks in their driveway. and inside of the garage is the second living room. We even finish them out with sheetrock, texture, paint and baseboards, so it really is just so close to being a second living space. I don't know why we do that, but all you have to do is lift up the garage door and you're hanging out with your neighbors.
Chelsi Frazier: [00:27:04] That's been so interesting and so helpful. I hope our listeners have gotten a lot out of this. There are things that I learned about Texas and living, buying and building that I would have never even considered to ask. Again, we get a lot of relocation and we want you to know that we have the answers to these questions. If there's something we didn't address, please email us, Whitney is going to give that info at the end, or call. We would love to bring it up on and on a future episode or just post it online. Thank you Whitney so much! Your a wealth of information. We really appreciate you answering all these questions and helping those buyers out.
Whitney Pryor: [00:27:44] Absolutely. I love helping buyers out. We look forward to listening to you or answering any other questions you have about the Texas area. We thank you so much for listening in today. If you want more information, you can definitely take a look at our show notes we will link to our website for additional info. We'd love to hear from our listeners on any specific questions you have about moving to Texas. Join the discussion on Facebook or Instagram, or you can email us info@jhoustonhomes.com. For a quicker answer, feel free to call us at 866.237.7803. We look forward to you joining us again on the next episode of our podcast.
Whitney Pryor and Chelsi Frazier: [00:28:28] Welcome Home.