Questions to Ask When Selecting a Floor Plan for Your New Home

So you've decided to build a brand new home in a new community. You want everything in the home to have your personal touch and you look forward to the experience of building a home from the ground up. But where do you begin?
If you're like most people, you've surrounded yourself with different floor plans, home design magazines and have spent countless hours online and touring model homes in search of that one "perfect" floor plan that fits your family's needs and lifestyle. While doing your own homework is definitely important, at some point the knowledge of a new home advisor or community sales manager really helps. A good builder will provide you with a knowledgeable team that asks the right questions to present you with the perfect plan for your needs.
Rest assured, all of those ideas, sketches, and Pinterest screenshots you've compiled will be beneficial during the building process to help communicate your vision. But before you can pick out flooring, lighting, paint colors or even landscaping ideas, the floor plan remains the single most important choice for your home functionality. Because the floor plan is one thing you can't change at a later date, the final decision is not always easy to make. In order to help, we've created a list of questions to help direct you in choosing a plan that suits your needs now and for many years to come.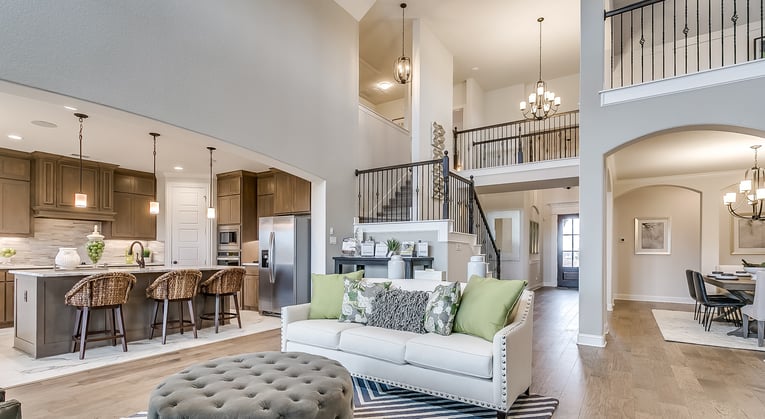 Lot and Land
What special considerations will your floor plan need when selecting a home building site?
Have you considered the direction of sunrise and sunset and window placement? What views will you have from your windows and doors?
How much backyard space is needed? Do you plan to build a pool in the backyard? Need room for pets? Playgrounds?
Where would your ideal lot be in regards to placement on the street? Do you prefer a quiet street with no access? Do you prefer easy access from the front of the community?
Size of the Home
Is your family growing or are you downsizing? Will your home fit your needs as your family changes?
Do you enjoy hosting parties or holiday gatherings at your home?
Are you needing a 2nd story game room for additional space?
Do you house overnight company often? How important is it for them to have a private bathroom?
Will you need to care for live-in aging parents or relatives at some point in time?
What areas of the home will you spend the most time in?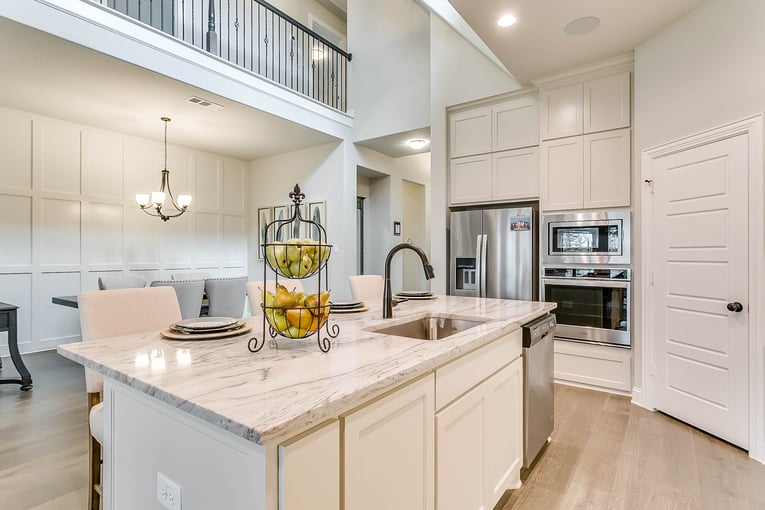 Style
Is a ranch floor plan or two-story home design best for you? Have you considered how many stairs will be in your home?
What works within your community and neighborhood? Does the style of your home fit in with it's surroundings?
Open concept is nice, but does it create challenges for you? Have you considered your furniture needs and areas for individuals to escape for quiet moments like reading a book or working on homework?
Do you plan to age in place in your new home? Have you thought about wider hallways, entries, showers and doorways?
Lifestyle
Do you work remotely from home and require a private office? Do you meet with clients in your home office and desire a separate entrance to this space?
What hobbies do you have and does your layout accommodate them? Do you have the proper size rooms and storage for your hobbies?
Do you have pets and does the floor plan accommodate caring for them? Is there a proper place for your pet's belongings such as crates and food area? Do you need a pet door or special covered patio area for your pets?
Are you a car enthusiast or garage tinkerer? Do you need a 3 car garage or additional concrete driveway space for your RV, boat or other toys?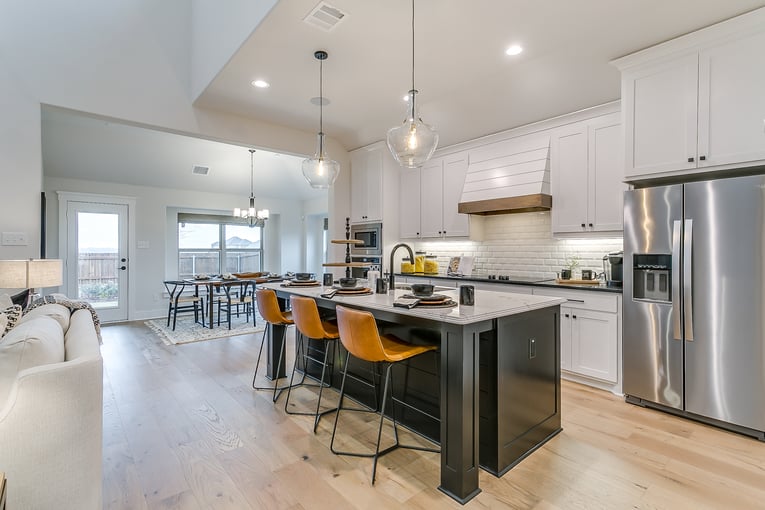 Kitchen Layout
Are you a gourmet chef or do you grab dinner on-the-go? How much cooking space do you need? Do you require more small cooking appliance storage than typical?
How often do you entertain and how many guests do you need to accommodate?
Do you require special appliances such as secondary beverage storage or additional oven space for baking?
Do you grill outside frequently and how accessible is this space to the kitchen?
Do you like to buy in bulk from Costco? Do you have ample pantry space for bulk items?
Furniture Placement
How well will your current furniture fit the floor plan?
Will you need to purchase new furniture and have you allowed for that as part of your budget?
How important is the location and size of your TV? Will you be placing your TV over the fireplace or in a separate piece of furniture in the living room?
Budget
What is your overall budget?
How does cost vs. size vs. quality play into your home building decisions? Is it more important to have higher upgrades in your home or is space and size more important?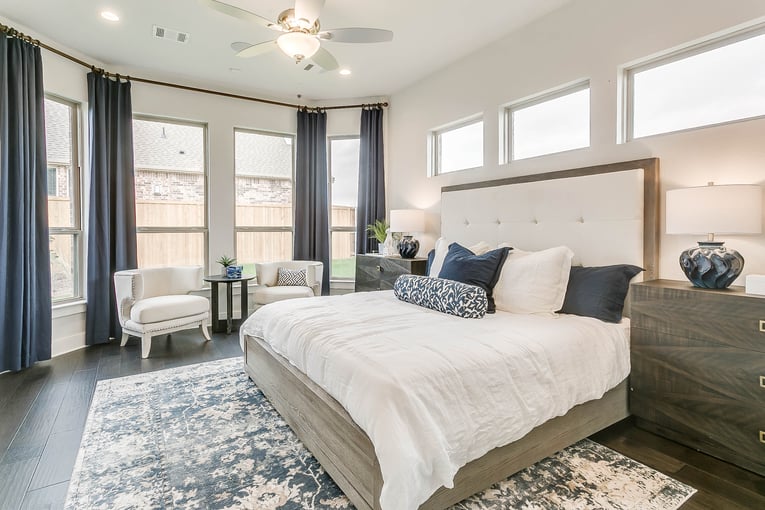 Other Considerations
Do you require any accessible features such as Christmas light outlets, walk-in showers, wider hallways, larger doorways or special placement of electrical outlets - such as a deep freeze or electric car charging port?
Are there neighborhood requirements for the size or style of your new home?
We encourage you to use these helpful questions as you explore our 3D Model Home Tours, or chat with a New Home Advisor about the ideal floor plan for you at 866.646.6008.