Planning to Build A Pool in Your Backyard? Consider These Factors Before Diving In.
There is little that's more refreshing on a steamy, hot Texas day than a crystal-clear backyard pool. Your own personal oasis, your private retreat, your tropical getaway from the day.
Whether you have been in your home for years, or you are in the process of building a new home, it's always an exciting time when you make the decision to add a little splish-splash to your life. Think shallow tanning shelves, pink flamingo floaties, and enchanting fountains and waterfalls.
How you choose to elevate your backyard living is truly only bound by your imagination … and your budget! Read on for some information and insights to consider as you begin your pool-building journey.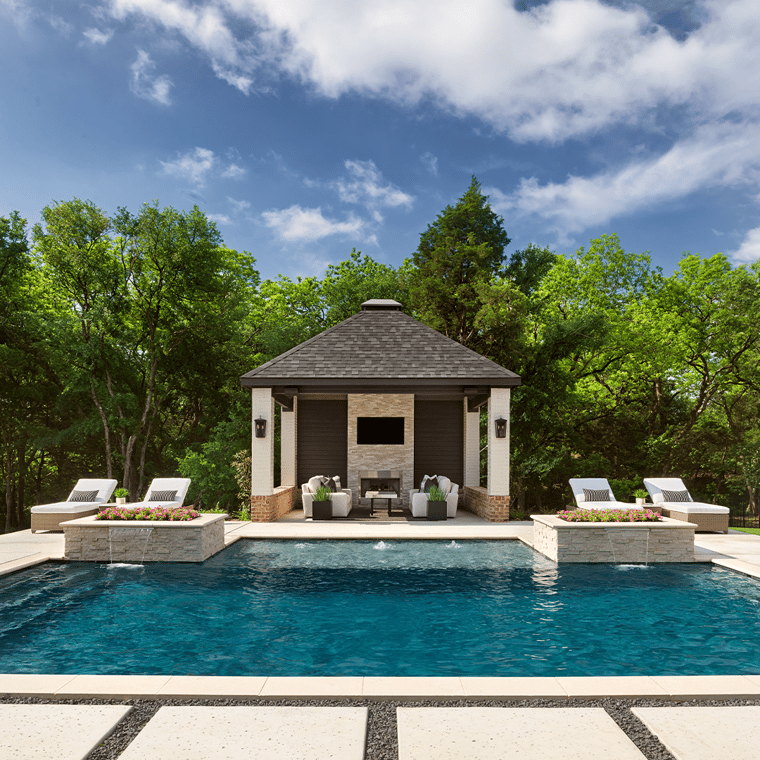 Zoning Laws & Permits Needed for a Pool
Before the fun can begin, you need to do the not-so-fun stuff which includes understanding your zoning and permitting laws and regulations. Construction without a city permit is never a good idea as this can lead to hefty fines and/or legal injunction, so you must be sure to have all your ducks in a row when it comes to filing the proper paperwork.
Be sure to contact both your Homeowner's Association (HOA) – if you have one – and your municipal authorities. Easements, for example, are an important consideration. Justin Bright, owner of Midlothian, Texas-based Bright Pools LLC, said it's important to be aware of any utilities or easements on the property.
"We can encroach a building line where a house cannot," said Bright. "But we cannot go past any easements."
Most towns and cities require permitting fees, so it's wise to get educated on your city's pool-related fees, required documents, regulations, and ordinances.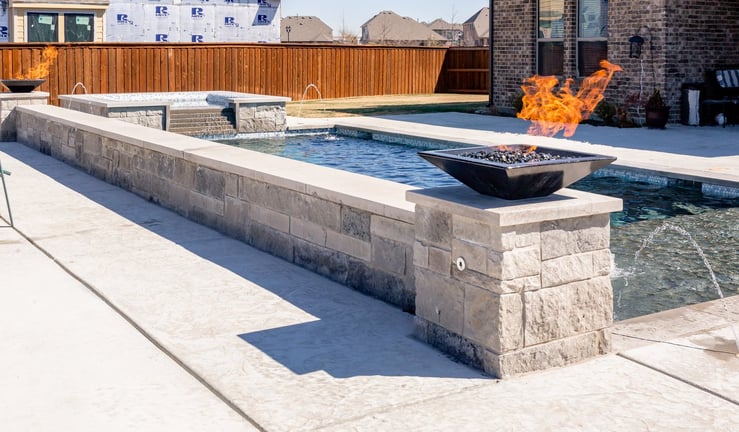 Photo Courtesy of Bright Pools, LLC
Reasons To Get a Pool
Why do you want a pool? This question may seem like it has an obvious answer – you want to cool off! – but beyond that, why do you really want a pool? Bright said that most of the time, family wishes and a desire to entertain typically drive this decision. He said while some clients are more active and want to play sports in a pool, others want a relaxing setting in which to hang out or lounge. Still others prefer a pool with a deep end if they have larger families or older children.
It's important to really consider why you want this pool and how you envision the role it will play in your home life. Will this pool be mostly for children? Do you want this pool to be a stunning architectural focal point? Will this space be the go-to location for family gatherings, breezy soirees, and more? Will this pool primarily be used for exercise and fitness?
The answers to these questions and more will help you guide your pool design process. Take time to fully assess your goals for this outdoor space to ensure maximum long-term satisfaction.
How Much Does It Cost To Build A Pool?
Choosing to build a pool is no small decision, nor is it an inexpensive one. Building an in-ground pool can range in cost from roughly $40,000 to upwards of $100,000. The sky is truly the limit when it comes to pools; if you can dream it, it can most likely be designed. Of course, materials, size, features, and more will factor into the price tag.
In the early stages, make a wish list for your dream pool and then reconcile that list with your real-life budget. Be sure to have a heart-to-heart with a trusted pool builder who will be able to advise on construction costs, materials and design options, and ways to keep your pool's cost in line with your budget.
Keep in mind that, even if you cannot do everything you'd like to do all at once, it is usually more cost-effective to incorporate any necessary infrastructure during your original design phase than at a later date. So if you would like to build an outdoor kitchen or firepit in the future, put the gas lines in now.
Also, remember to include such costs as chemicals, pool equipment, ongoing maintenance, and utilities in your pool budget.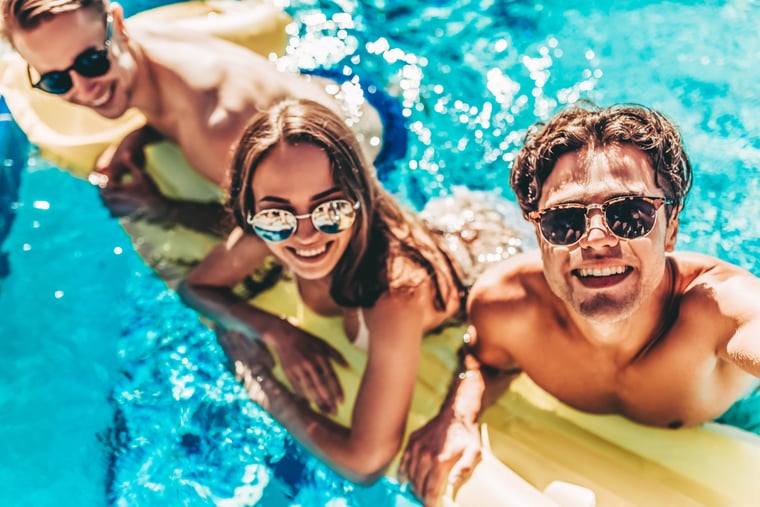 Types of Pools
There are basically three types of pools: vinyl, fiberglass, and concrete (gunite). Each type comes with its own pros and cons. While vinyl and fiberglass pools can often be installed in a matter of weeks, they also have some drawbacks. Fiberglass pools, for example, offer fewer size and shape options. Vinyl pools, on the other hand, use vinyl liners that are less durable and more susceptible to damage (think tears, punctures, fading, and staining). Concrete pools, while more expensive, offer infinite flexibility in shape, size, and design, as well as unmatched durability and strength. However, they also typically take three to six months to build by the time you factor in the design/approval process, excavation, placement of steel, plumbing, and electrical, gunite application, and the plaster finish.
At the end of the day, talk to a reputable pool builder to choose the pool that best fits your unique needs, vision, and budget.
Backyard Pool Landscaping & Living Ideas
Building your pool is just the beginning of creating an outdoor living environment that lets family and friends beat the heat while making cherished memories.
Make your poolscape an aesthetic centerpiece with pebble, quartz, ornate tile, and Caribbean hues. Also, consider the ways you can extend your al fresco living with an outdoor kitchen, gazebo, or soothing waterfall. You may want an entertainment system that showcases a flatscreen television, outdoor speakers, and multicolored LED lighting.
From flagstone patios, lush landscaping, and glass mosaic-tiled spas to fire pits, umbrella-shaded tables, and inviting chaise lounges, there are any number of ways to create a sensational outdoor space with thoughtful design, inspired vision, and strategic execution.
And remember, the sooner you start, the better. When all is said and done, add water and enjoy!
** To discuss ways to enhance your new home's outdoor living space, contact a John Houston Homes New Home Advisor today at 866-251-0910. **