How To Design & Decorate Farmhouse Chic
The popular farmhouse chic vibe is created through several elements of design that give it a soothing yet elegant appearance. The experts at John Houston Custom Homes created this unique home from start to finish. Here are a few tips on how you can achieve the Farmhouse Chic look!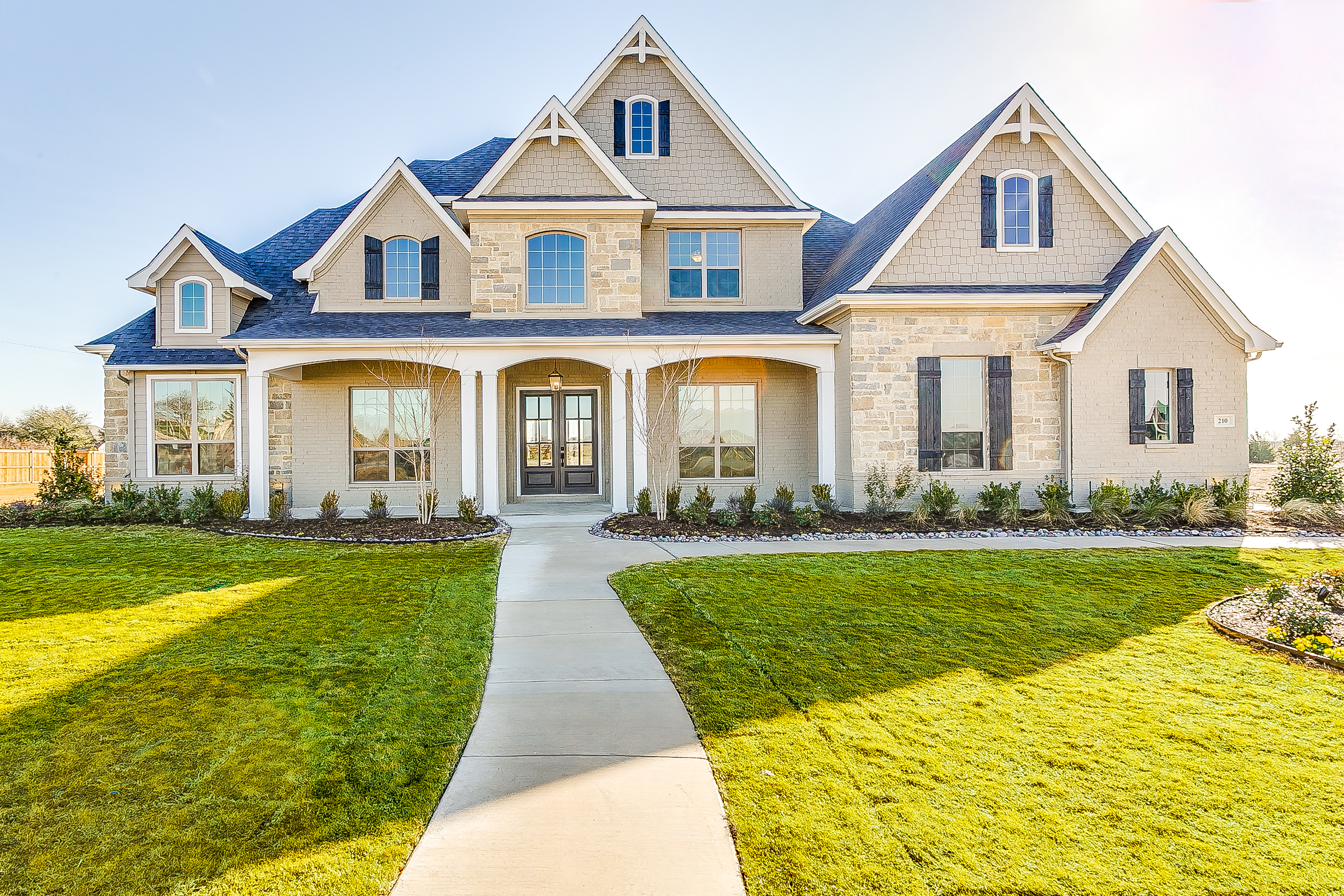 Farmhouse Chic Look – Neutral Colors
Soft colors play a major role in creating a soothing atmosphere. Think about it - when you visit a spa, you typically find the use of neutral and light color palettes. There's a reason for that; neutral colors reduce stress! Using colors like whites, greys and beiges create a perfect space to put your feet up and unwind.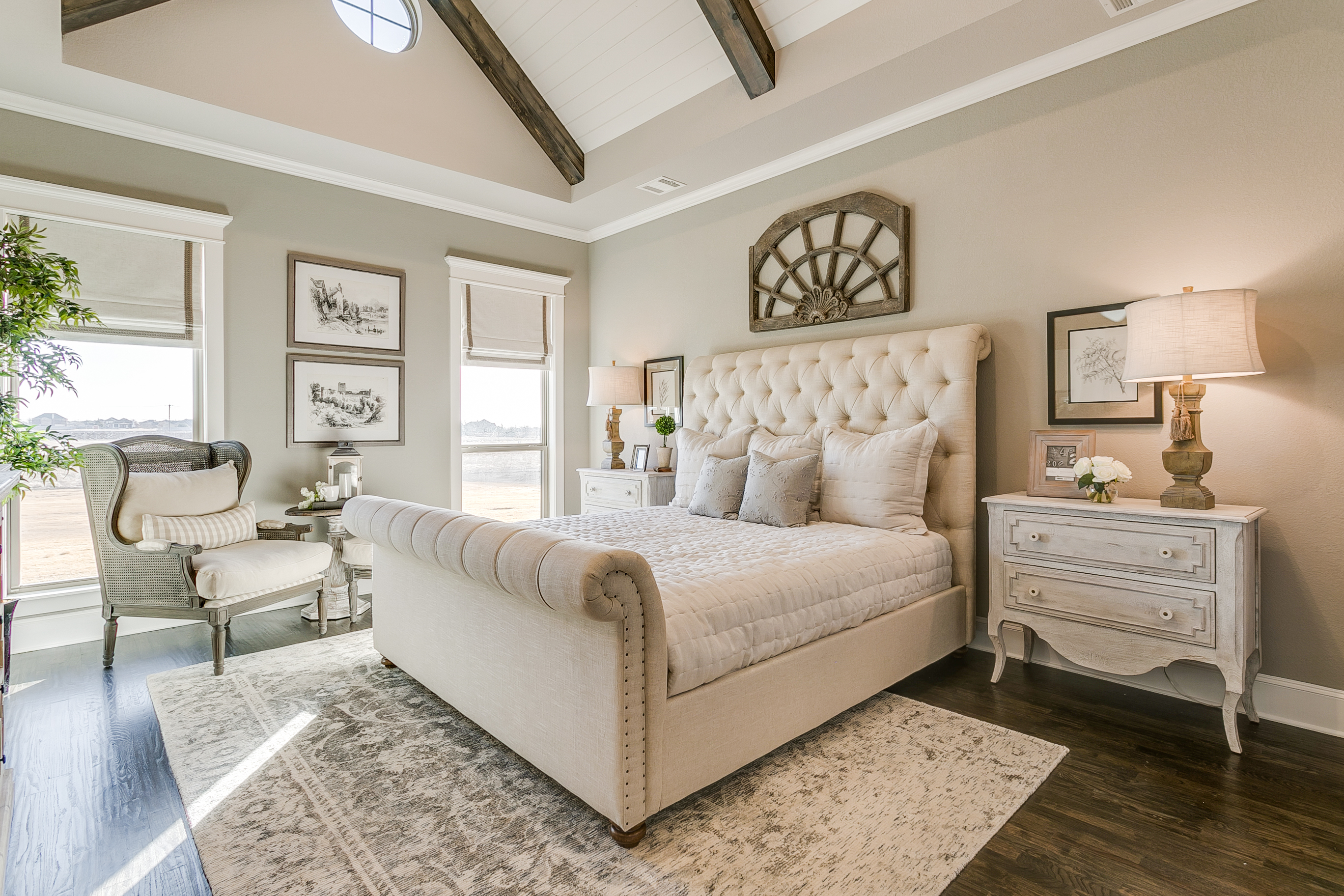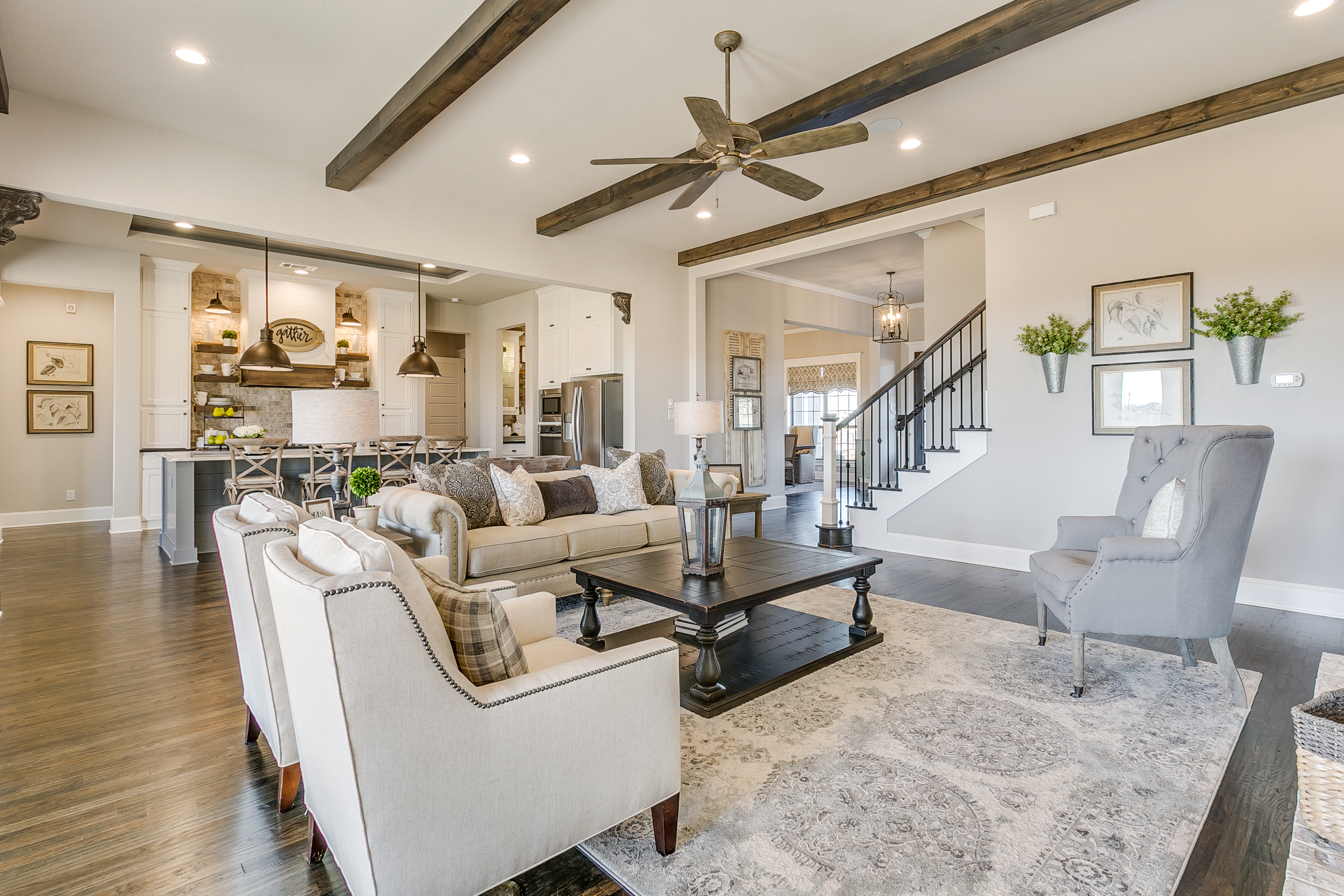 Farmhouse Chic Look – Rustic Finishes
The farmhouse chic feel comes from incorporating rustic elements into modern and traditional pieces. For example, the ceiling in this family room incorporates rustic wood beams. The kitchen vent hood also uses rustic wood and shiplap. With a more polished finish, this wood would have taken on a richer feeling. A key to achieving the look is using natural materials such as wood, stone, and shiplap. Using actual farm pieces such as barn doors give the home a unique charm. Accessories with a worn finish, such as candlesticks and woven baskets add a farmhouse look. Also the use of white ceramic dishes and pottery add a clean, chic touch.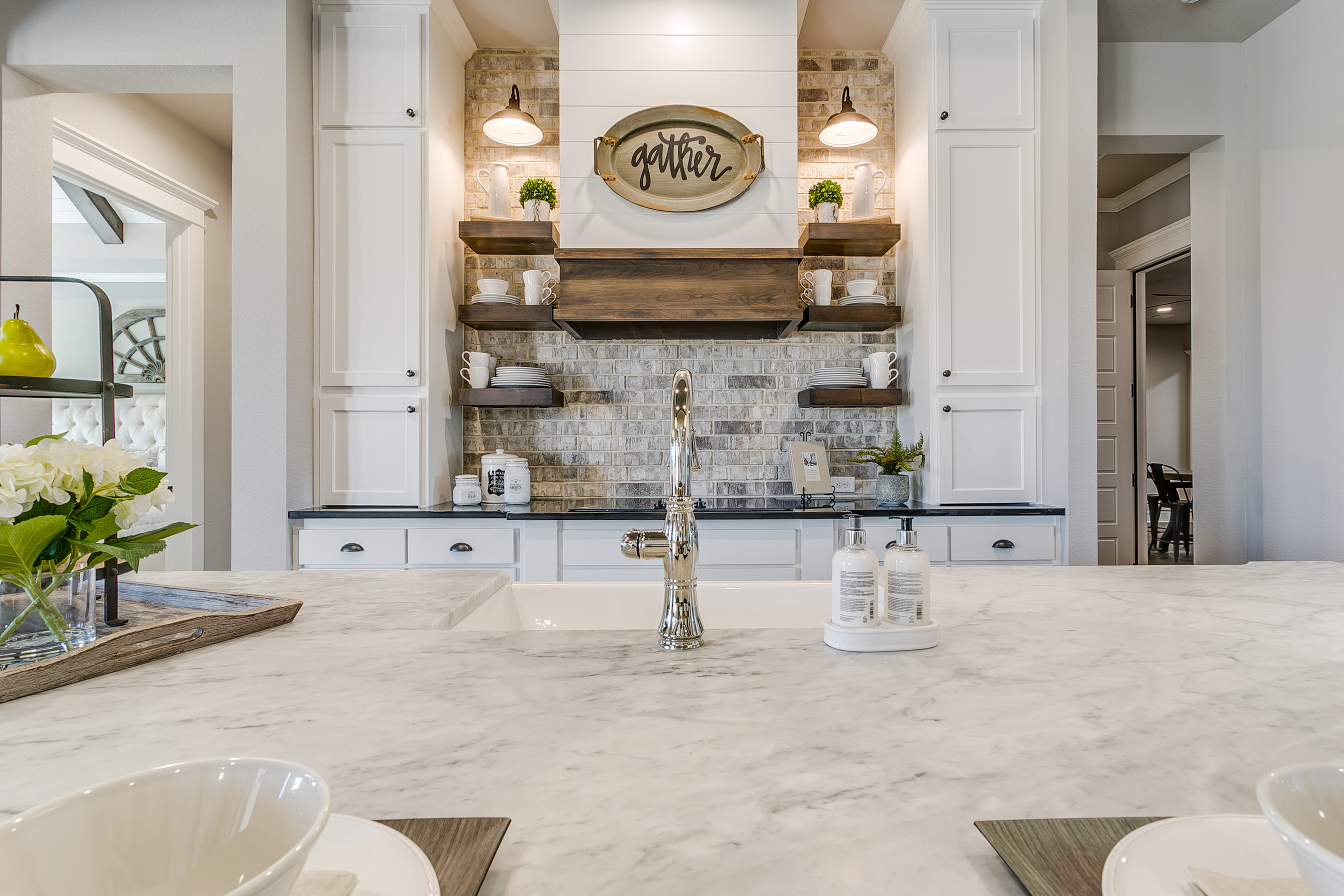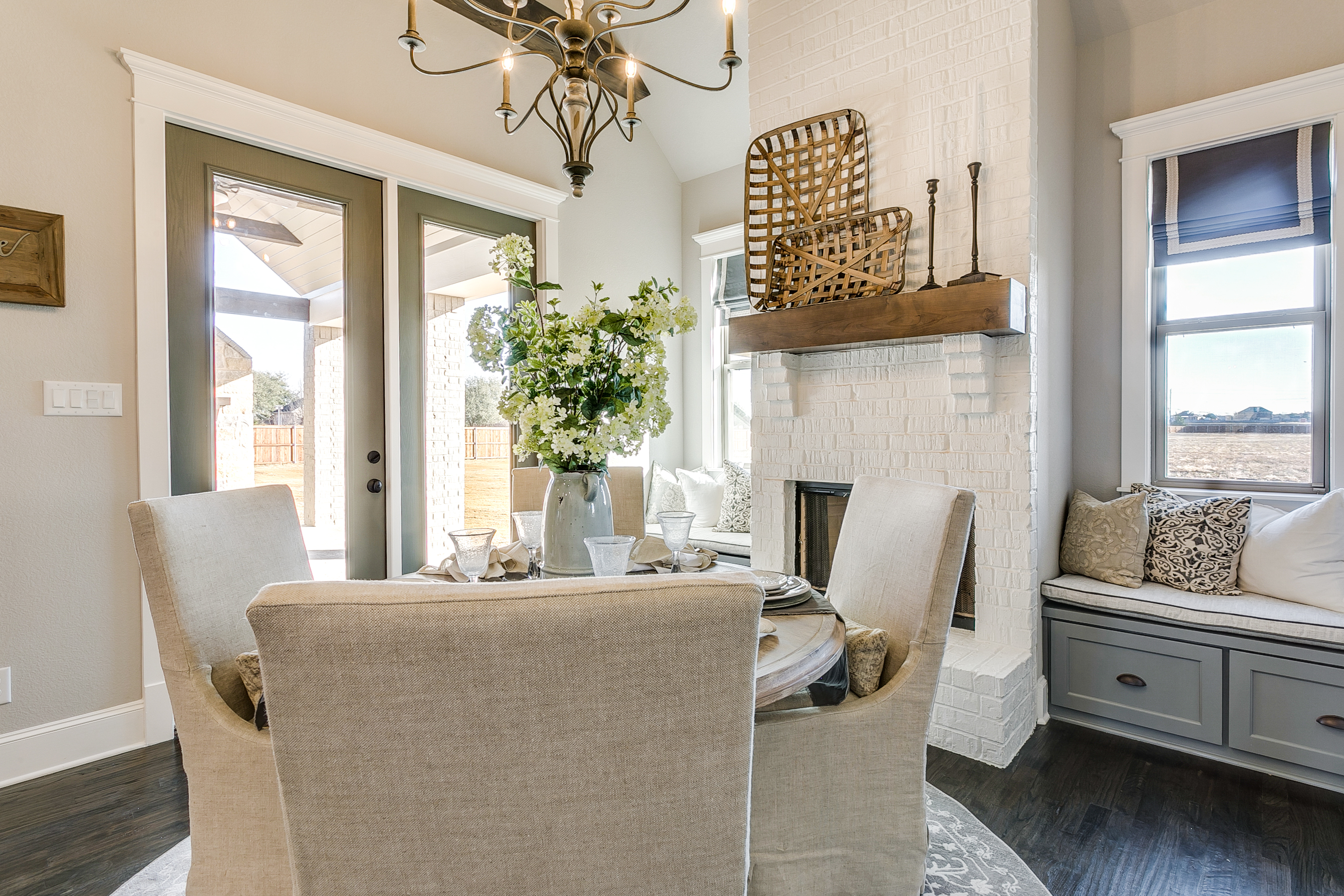 Soft Plush Furnishings
Designing a calming farmhouse space requires completing the look with soft, plush furnishings. These comforting materials can be incorporated into several elements such as cloth on dining room chairs, a simple, rustic table setting, and cozy pillows/throws that incorporate the neutral color palette.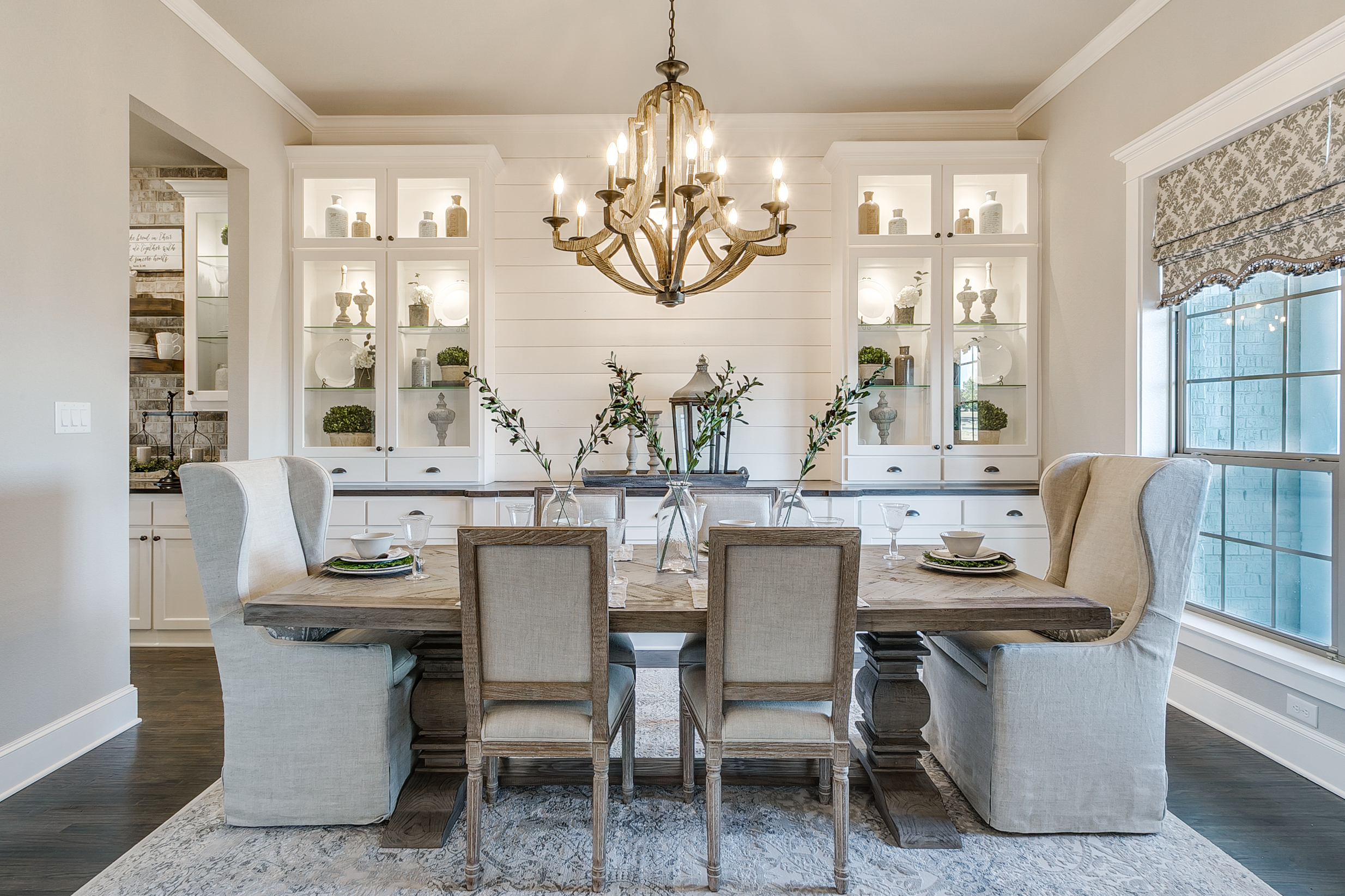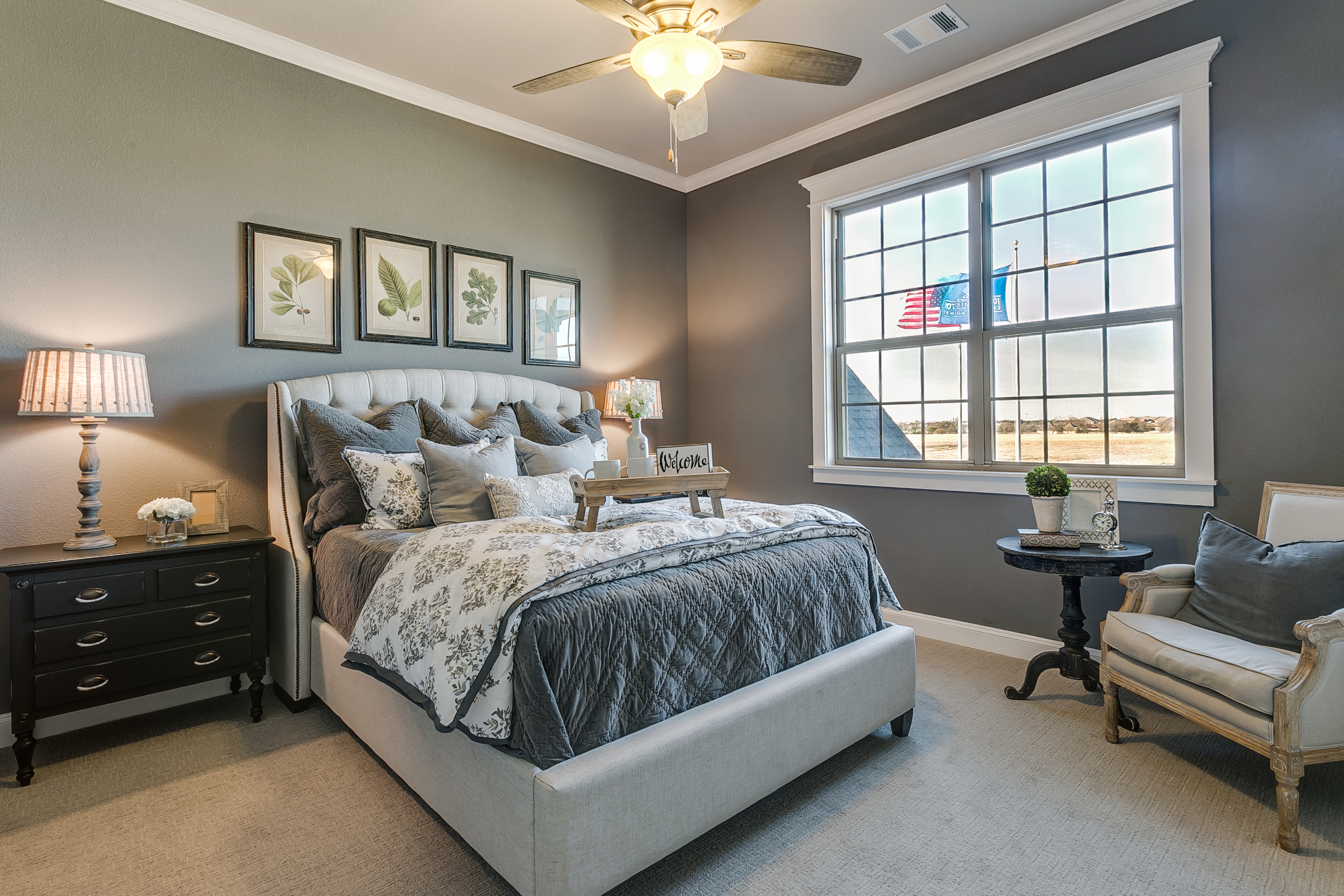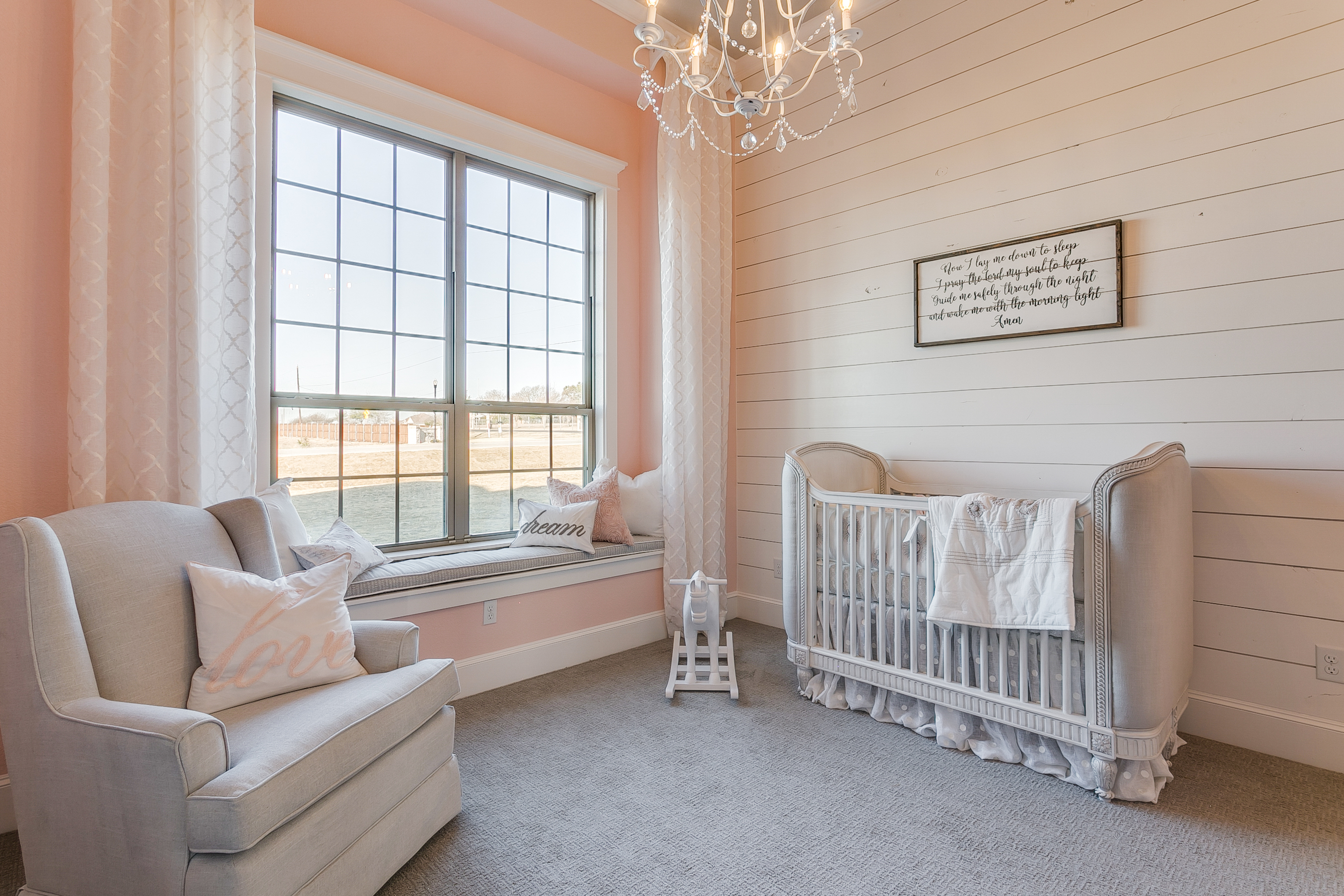 Refurbished Elegant Lighting
Ahh lighting! This is one of the most important features. Unique choices show personality and give a space character. Distinctive light fixtures bring a space to life! When going for a farmhouse chic vibe, lighting that incorporates glass or crystal combined with a dark iron contrast spruce up the space. Even the use of wood fixtures can create a unique space that sets each room apart. Rustic elegance is tied into each lighting fixture to tie the home together.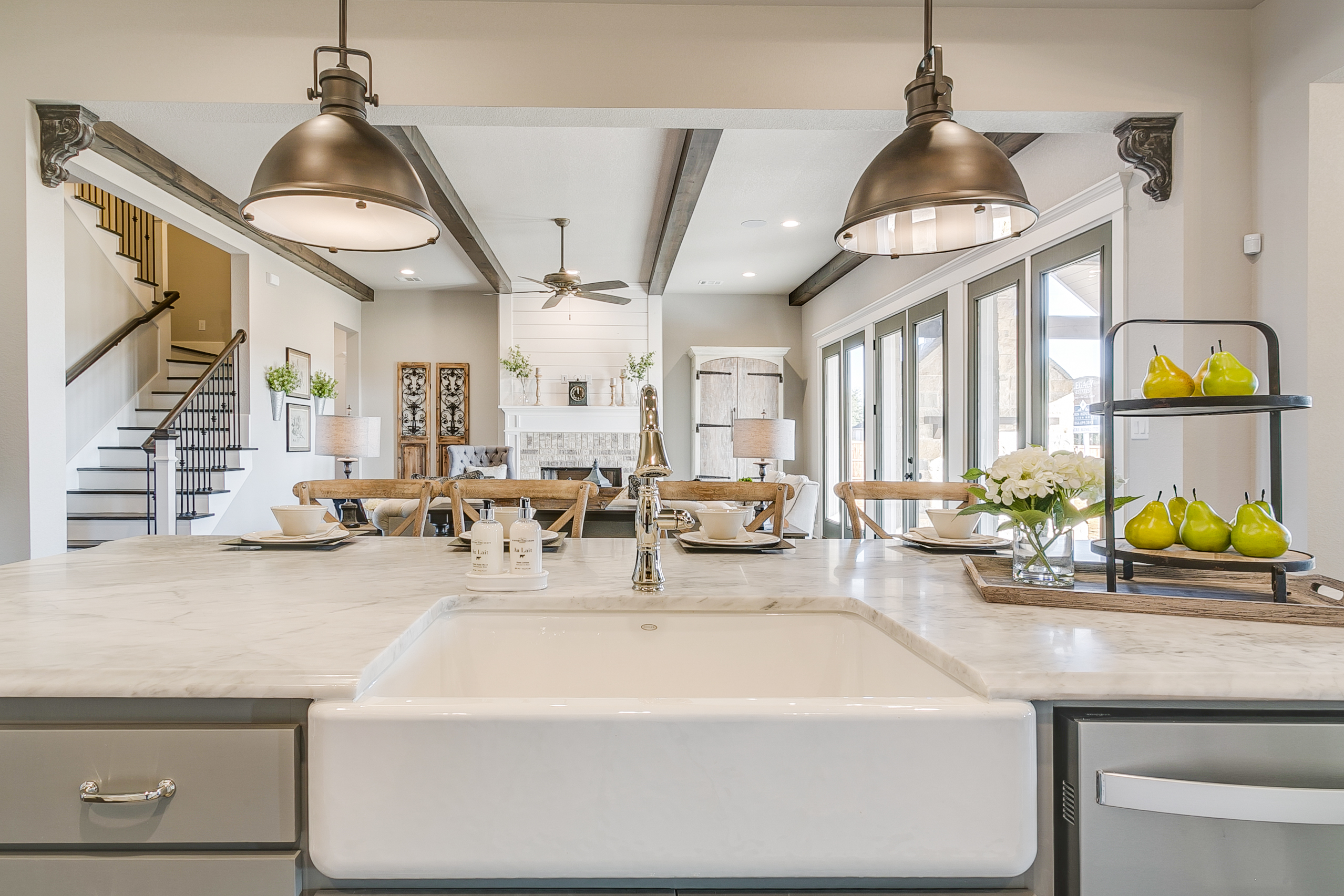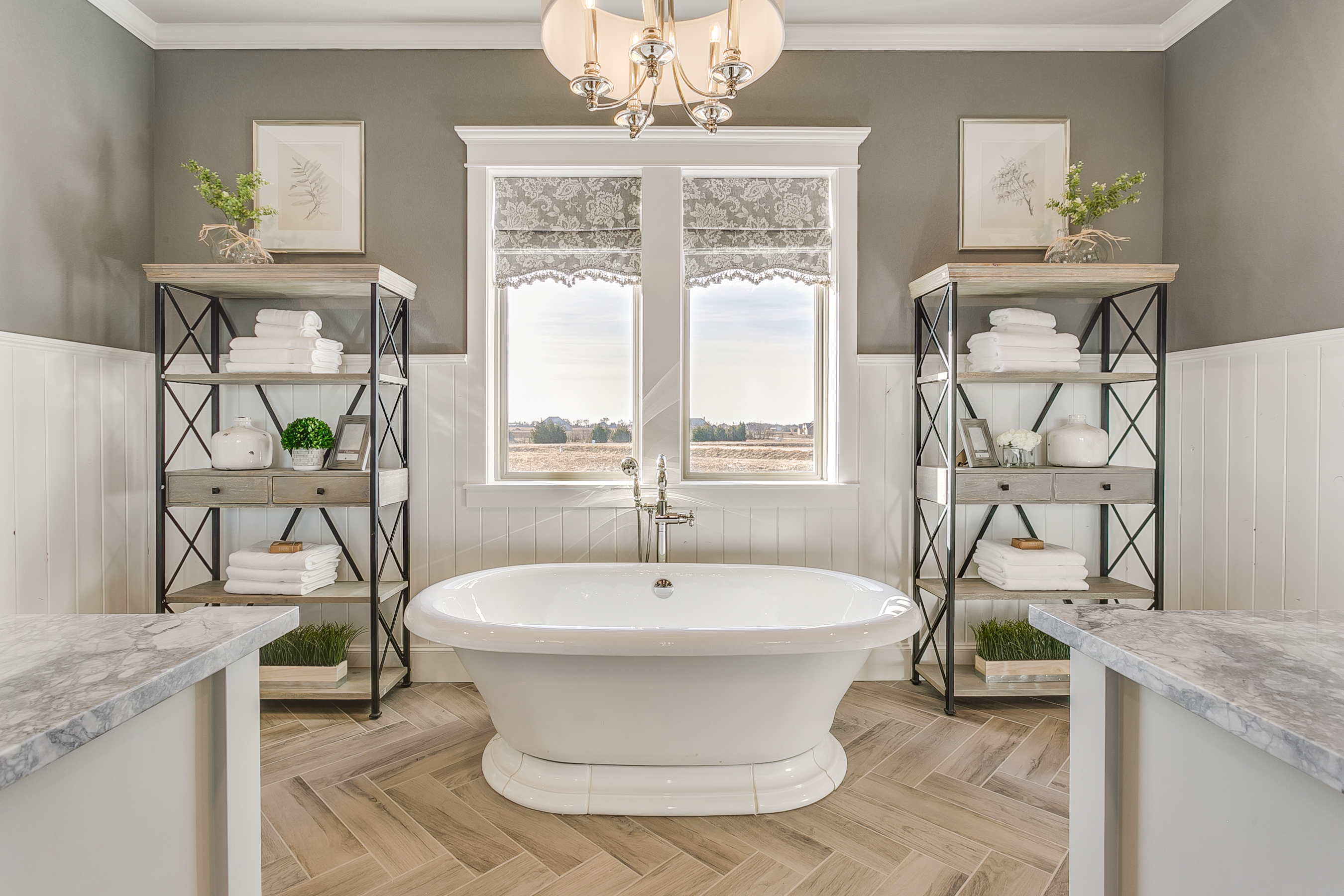 Open Concept Floor Plan
The ultimate factor that creates a farmhouse feel is the open concept floor plan. This plan opens up from the kitchen and breakfast area to the family room. The large french doors open up to the back patio that allow you and your family to soak in the country views. The overall feel of the home comes from several other aspects that add to the 'open' feel as well. Details like the stacked open shelves in the kitchen, the large open entry and the large kitchen island add to the openness of this home. The french doors and large double entry doors also provide a continuation of space between the interior and exterior to give the ultimate farmhouse feel.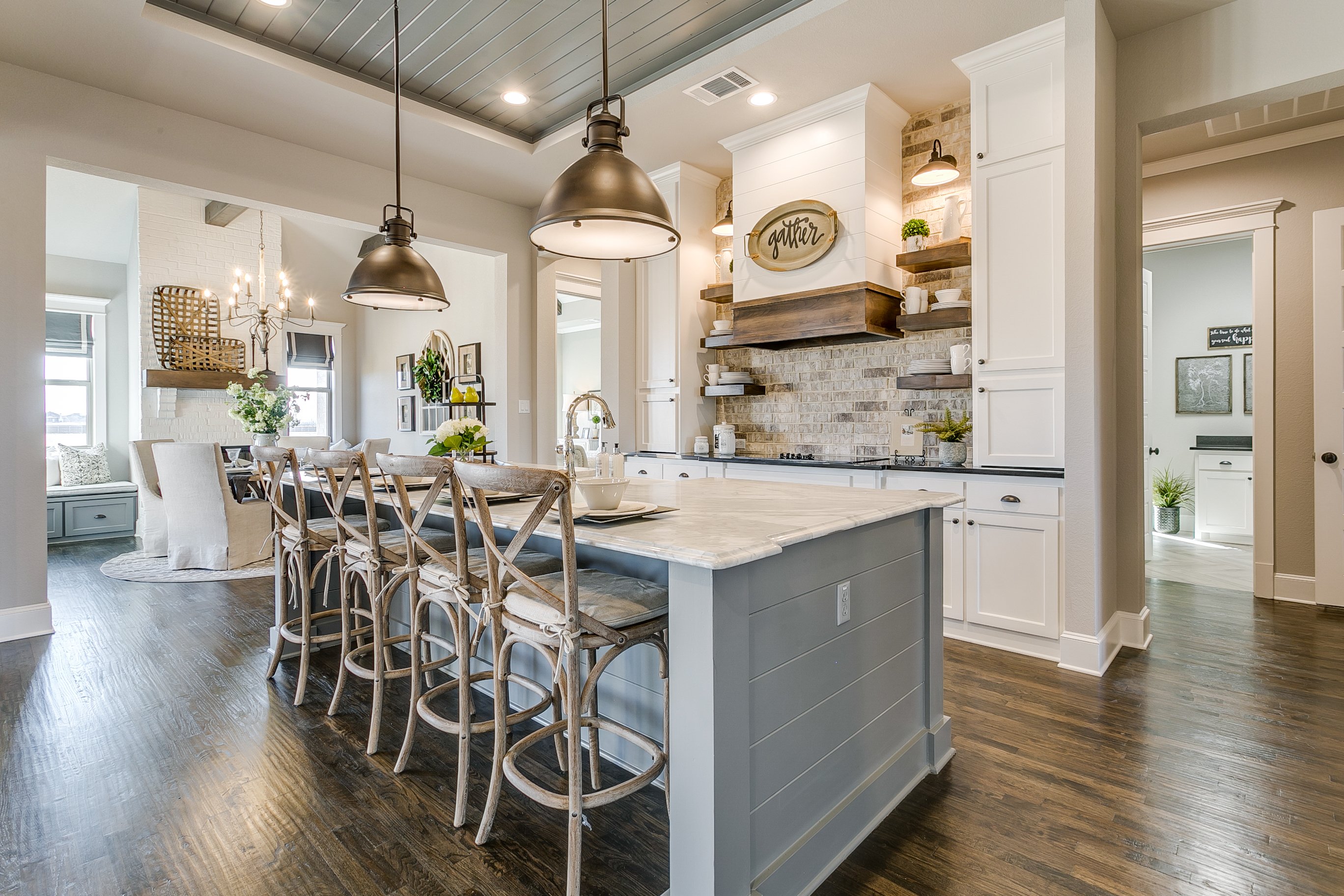 To see more images of this chic farmhouse, click here to view our 3D Model Home Tour of Legacy Estates.