Most everyone makes resolutions at the beginning of the year. Most of those resolutions have to do with self improvement which is an awesome thing to incorporate into your new year. But here at John Houston Custom Homes, we aim to serve others daily and throughout the year. If you'd like to resolve to better serve others in the new year, here are some great ways that you and your family can make serving part of your 2017.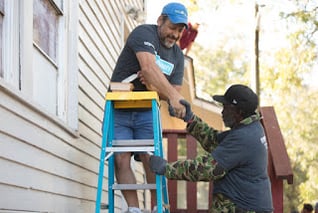 1. Start at Home
When was the last time you asked the members of your family what you can do to help them? Doing the dishes when it's not your turn, taking out the trash or simply giving your undivided attention and listening to their needs is a positive way in which you can serve your family. Start with those closest to you.

2. Pay It Forward
Paying for the persons order behind you in the coffee line, bringing goodies to your local police department, helping your neighbor with their groceries. Simple and easy ways you can brighten someones day and put a smile on their face. Paying it forward is such a contagious act! You never know what that one act will inspire others to do.

3. Give of Your Time
There are many serving opportunities within organizations and churches around your community for you and your family to do together. One time events such as organizing a food drive or volunteering on an on going basis to sort and help manage incoming donations are ways in which you can help. Decide what you are passionate about and start there. Our community is full of serving opportunities and people ready to help you plug in.

4. Write an Encouraging Note
Handwritten letters are becoming a dying art it seems. But truly what a special gift when you realize someone has taken the time to write to you and encourage you or pray for you. A note can be a treasure to a lonely person or someone who simply needs an uplifting reminder. This is a serving opportunity that takes just moments of your time and can make a big impact.

5. Deliver a Meal
We often times relate bringing meals to others when they are sick or just had a baby which is an amazing way to serve others. Extending that to an elderly person who lives alone, or perhaps a busy single mom who could use a break, is a personal way to serve someone that will surely brighten their day.

We aim to serve our customers and the communities in which we build at John Houston Custom Homes. We hope that this has inspired you to serve alongside us and make our communities stronger together. Happy New Year!