Ep. 10: Choosing The Right Floor Plan with Stuart Walker
You've chosen the perfect builder, the perfect community, the perfect lot.. but when it comes to choosing the perfect floorplan, how do you know which one is the best choice for you and your family? On this episode, we bring in Sales Manager Stuart Walker to walk us through that selection process and how he helps his homeowners choose a floorplan that best suits their needs out of the 55+ floorplan options we offer at John Houston Custom Homes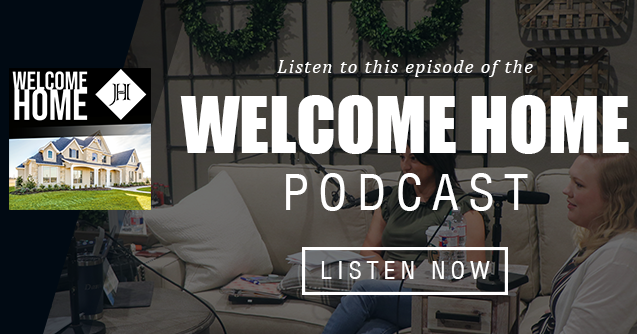 Intro: [00:00:03] Welcome home, a podcast brought to you by John Houston Custom Homes. Join hosts Chelsi Frazier and Whitney Pryor, as they walk you through the exciting adventure of your home buying and building journey.
Whitney: [00:00:17] Hey everybody! Welcome back to another episode of the Welcome Home podcast. I am Whitney Pryor along with my co-host, Chelsi Frazier. How are you doing today Chelsi?
Chelsi: [00:00:27] I'm good! It's nice to get out of the house and in real clothes like a grown up again.
Whitney: [00:00:33] Yes, we have been out of the office for a while working at home. It is so nice to see everyone's smiling faces in person and to get out of those sweatpants we've all been wearing. It is so nice now without those 100 degree days, it's great. Chelsi, who do we have as our guest today?
Chelsi: [00:00:56] Today we're talking with Stuart Walker. He is a Sales Manager for John Houston Custom Homes. We're going to talk about floor plans -what kind of questions people ask him and what to look for.
Whitney: [00:01:08] That's a great one. We get so many questions about that.
Chelsi: [00:01:11] Welcome to the show, Stuart. How are you?
Stuart: [00:01:14] I'm doing great. How are you guys?
Chelsi: [00:01:16] Good, thank you!
Whitney: [00:01:17] Stuart, how many years have you been with John Houston Custom Homes?
Stuart: [00:01:22] I'm currently going on 9 years.
Chelsi: [00:01:25] Where are you selling at currently?
Stuart: [00:01:27] Currently, I'm in Buffalo Ridge Phase 4 & 5 and Springside Estates both in Waxahachie, right off of Broad Head and HWY 287.
Chelsi: [00:01:38] Nice, welcome to the show. We're glad to have you and jump in to talking about floor plans. I know you get lots of questions day in and day out. We want to provide our audience with some of that information. I'm sure a lot has changed- what people are looking for and the design of homes, with open concept being very popular.
Stuart: [00:01:58] Our Architects in the Corporate Office have worked really hard to maintain the open floor plan concept. Our Designers in the Design Studio keep up with the trends. They put together the items that people ask about and are looking for.
Whitney: [00:02:13] Walk us through whenever someone comes to your model home and they don't really know what they're looking for. They know what current square footage they're living with. It might be too small or too big. What is your step for narrowing down what their needs are and what the right floor plan is for them?
Stuart: [00:02:36] I feel like I'm in one of the best floor plans, if somebody is looking for something not too large, that would fit all their family needs, as far as a 4 bedroom, a little dining area and a study. It has all those items in it. A lot of my clients come in and they have a square footage in mind, 3,000 square foot, just for instance. They're getting this number based on what their current house is. It may be 2,600 or 2,700 square feet and they're thinking that it just doesn't fit their living situation. They come into my model home, which is 2,425 square feet and we don't even talk about square footage. We walk around it and showcase all the items that it has. I ask them, you know, "how does this home fit their needs?" A lot of them will say, "this is great, works out fine." I tell them the square footage and they're astonished. Square footage is, you know, it's a big deal. I have older clients that do want larger single stores to fit themselves and a mother or father that they're taking care of. I've got younger clients that do want to upgrade the square footage. They want Media Rooms, Bonus Rooms and Rooms upstairs to to separate out their lifestyle and their kiddos.
Chelsi: [00:03:52] Are they surprised on the square footage because they think that they needed more space and the Model Home feels big , but it's not that extra square footage?
Stuart: [00:04:01] Yes, they come in with a certain number in mind, they see the home, you tell them the square footage and it feels a lot larger. Our Architects have really sat down and tried to maintain certain homes in certain square footage. You can only tax a home's size a certain amount. If you have a 2400, 2500 and 2600 square feet, it's a lot less taxable than 3000 to 3500 square feet. These are good houses for folks that come in that have a budget in mind, but need the space. They may have a couple of children, they may work from home and need the study. They may still have the 6 to 8 person table that needs to sit in a dining room and it fits all those needs. Our Design Team next door that does all the color selections, does a great job of maintaining one level of flooring. Things like that where the flow of the house feels a lot larger, it's comfortable and it fits their lifestyle the way that they had in mind when they they stepped through the door to talk with us.
Whitney: [00:05:10] It sounds like our Architects do a really good job of making sure those floorplans have a lot of space where families gather or where that most used space is, right? Making sure that those are larger spaces and maximize the square footage in the home for usability.
Stuart: [00:05:30] Yeah, we have some great floor plans. We have a lot of larger floor plans that accommodate the needs of people that want the larger houses. If you go out to Springside Estates or some of our bigger acre Custom areas, you'll get a lot larger home and a lot wider home. Even though it's not 3000 square feet, 2900 or 2600 square feet can feel so much larger than what their current home is. It's all based on how they make the flow of the house. John Houston Custom Homes is known for gathering, family and having friends over. You want that space to be open so that you can mingle, talk and have a good time with all of them. We have an Architectural Team, so if I don't have exactly what they're looking for and they're needing to add some square footage, want to make a mother-in-law suite a little bit larger or whatever their needs may be, we have an Architect Team and a process to give them what they're looking for.
Whitney: [00:06:38] On that note, I know that on our 1-acre properties like Springside Estates, has some plans that have either a secondary downstairs game room or flex space on the opposite side of the master suite. Those can be used for secondary masters, is that correct?
Stuart: [00:07:00] Yes, actually, they've got quite a few plans on that side where the flex space. They also have an option of adding the whole suite, where it's attached to the bathroom and it gives you some different options. Those are standard options we can choose from. When they come through the door and tell me exactly what they're looking for, I'll present a few plans to them. I'll find them houses that we have on the ground. We'll take them out there, let them actually look and physically feel that home, to see if it fits their needs.
Chelsi: [00:07:44] It sounds like you really sit down with them to explore the family's needs, wants and vet through, okay, get this number of square footage out of your head. Rather, what do you need in the space and how does it feel? I love that.
Stuart: [00:08:00] Yeah, I really don't sell the square footage, I sell the houses. Each client has their own needs and what they're actually looking for. That's why it's important to get them out into the homes, so they can look at a couple of different floor plans. You don't want to show them 30 houses, you'd rather show them 2 or 3 of them. If it fits what their needs are, which in most circumstances it does, that's when you start finalizing everything, tell them the processes and how they can achieve that.
Whitney: [00:08:35] I love that we try to accommodate what is coming up in the future, as far as, what people's needs are. It seems as of lately, there's a lot of people that have older parents living with them, where they need that second master. There's also, cases where people want to make sure that their home will fit their needs in 20 years, whenever, they might need a wheelchair, need wider spaces, pen showers and things like that. It seems like we have done a great job with our floor plans, making sure that we are able to accommodate those needs of families in the future and their situations.
Stuart: [00:09:18] I've got several homes that we've done where we accommodate mom or dad living with living with the parents. We've done a great job with the Architect Team, sitting down and telling them exactly what we're looking for. Even though I don't have any kind of design background, I'm able to draw it up, get with our team, show it to them and they draw it. We send it back to the client, they approve it and we start moving forward with the home that they want. It's easy to do things like that.
Chelsi: [00:09:51] What about the flip side of that? Where you've got kids, kids recently out of the house or young parents that don't need as much space because everybody's in college or just recently graduated college? Do you have a lot of people looking for maybe downsizing, low maintenance? How often does that come up?
Stuart: [00:10:10] That comes up very regularly, with as much traffic as we're getting these days. We're seeing a lot of people moving in from out of state. They're empty nesters who are able to move to Texas that just recently retired, a lot of military and things like that. They're looking for a smaller single story home. I worked with the lady yesterday. We looked at 3 different houses in 3 different communities. She found the perfect one and picked her lot yesterday. We're working through the processes this week to get her goals accomplished.
Whitney: [00:10:45] What would you say is the most unique question that you've received from a family, as far as floor plans or customizations, that you've seen that other people might not know about?
Stuart: [00:11:00] I've actually done a home where it had 3 Master bedrooms and 4 bathrooms. It was multigenerational, family housing. They would bring friends and family over from out of out of country. It was a very large house. It turned out beautifully, but yet 3 Masters. They were very specific based on their culture of how they needed the showers to be laid out. It was not just a shower head up . They still needed the nozzle because based on their tradition, they did it a different way. Two of the bathrooms were modified like that. It turned out perfect, it was a beautiful home.
Chelsi: [00:11:48] We have 40 plus floor plans with so many things to choose from. You mentioned not overwhelming the client by looking at 10, but just pairing it down. We don't always have every floor plan built everywhere. How do you handle that when somebody wants to look at something but you don't have it in your community or a community nearby on the ground? How do you help clients visualize that floor plan?
Stuart: [00:12:13] What we can do is actually look at the at the paper that we have and we look through it. We look at the different sizes of the bedrooms and how the kitchen's laid out. We have plans that are similar. If I can find a model home that is not the exact plan, but has similar bedrooms sizes and they want to see the layout of the room, we'll go search those areas. I'll walk them through it slowly, explain how it's going to look and a lot of times just take a leap of faith. I do have a lot of out-of-state buyers. They're not here to look at floor plans. We have a library online where they are 3D. You can get into them, click your mouse on each area and it'll walk you through each specific space. It gives you bullet points. You can see that house, see the layout and take a 360 tour around the bedroom. It's a very unique feature that we offer. It does help people that can't physically get down here. As soon as they get down here, we'll start looking and a lot of times they have 2 days. I'll shoot them over to the 3D tour and et them look all the way through it. They've got a couple of houses pinpointed before they get down here. I'll find them and we'll go look at them. Chances are, there's got to be one on the ground somewhere. I just have to prepare for that. When they get here, then we look.
Whitney: [00:13:48] It has been extremely beneficial. I know for those out-of-state buyers, I get calls all the time, especially from California. People that have already done some research on our website, they've looked at all of the 3D floor plans and they know exactly which ones they like. I think it really helps them to know that this is the right decision for them. They're able to come in and actually look at those plans in person. I think it's a super, great tool if you can't be there in person, but also to be able to know that, OK, I'm going to come in, look at this home in person and have that option available too. We're able to do it both ways to fit their needs and make them more comfortable with their decision when they come here and go through the John Houston Custom home process.
Chelsi: [00:14:40] Yes Stuart, I think you help customers feel very comfortable over the phone and virtually. Recently, you've had some clients that have done a majority of the process virtually, over the phone or Zoom meetings with you.
Stuart: [00:14:55] Yeah, we've done a lot of online listening and finding houses. There's a couple of clients I'm currently working with that are out of state and I haven't even met him face to face. We talk to them all the time and we send picture updates, which is really nice. They get excited about it because they love it.
Chelsi: [00:15:10] They're building and they're out of state?
Stuart: [00:15:13] They're building and they're out of state. We pick a lot based on the plat, based on them listening to me and telling me where they want their sun setting and rising.
Chelsi: [00:15:26] I think there's an extreme level of comfortability that they must have with you to be able to do that.
Stuart: [00:15:31] I think they look online and they see all the pretty stuff that you guys have online. We wouldn't capture any of those clients if we didn't have that because everybody right now coming through the door, whether it be their first time to the model, they know everything about us. They know everything about the competition. They've done every single bit of their studies. That actually adds to the excitement one will have whenever they get to me or when they're calling on the phone. We try to be as fully transparent with the whole process, the contract and the building. We do big group text outs with builders involved and just answer those questions as quickly as possible when they come. That's really half the battle. They know, with that 3D tour what to kind of expect, the pretty part of it. When they get down here, they're astonished. I've seen people break down and cry.
Whitney: [00:16:32] On that note, I wanted to also bring up a little memory. The first week that I worked for John Houston Custom Homes, I was sent out to meet all of the Sales People. It was my second day of work and I went out to meet Stuart. He was like, "get in my truck, let's go. We're going to go to this house." He was putting a Bible in the foundation of the home or on the sidewalk, I believe they were pouring the concrete. Tell us kind of that extra step that you take with those customers ,in instances like that? I know you've had other instances, where it is beyond customer service. It's that Second Mile Service that's a part of our mission and our vision. Tell us a little bit about some of those things that you've done for customers.
Stuart: [00:17:18] I feel very strongly if somebody is wanting to bless their home, to definitely let me know how to help them. A lot of my clients opt to bring in their own Bible, they'll highlight the areas that are very important to them, we'll wrap it up and we'll get it underneath their sidewalk, to kind of bless that entry. A lot of my clients will bring pastors with them and write scripture on the boards before the sheet rock goes up. I really am enthusiastic when it comes to that type of deal. In the field, we don't try to sell Christ. We try to help people find a house, but if they want to take that next step, I'm all for it. It's the Second Mile Service, but I'm honored to help people the way that they want to be helped.
Chelsi: [00:18:15] I think Stuart is all about building those relationships and it just happens organically, it's never forced. I remember when we hosted Santa pictures at his model home. There were kids and adults running in saying, "Stuart" and hugging. Everybody was so happy to see you. It's just so sweet. I know we're here to talk about floor plans, but it's Stuart. We can't help but talk about how likable he is.
Stuart: [00:18:38] I just had a bunch of candy in my pocket. They were right next door.
Whitney: [00:18:45] I remember covering his model home while he was on vacation one time. There was this elderly gentleman that came in for a bottle of water. He was like, "oh, I always come in. Stuart just lets me get my cold water bottle of water while I'm on my walk." That's the kind of community that Stuart helps to create, that Second Mile Service, giving a helping hand and just always there for people. I think that helps kind of set the tone for the community whenever someone purchases a home and decides to live there. Great job, Stuart!
Stuart: [00:19:22] I feel like I have the best communities out there, at least the best clients in the communities. It sets the tone for it. I had a group of kids that seemed like they were hungry all the time. They'd come in and get snacks from me. I don't mind, it's 50 cent bag of chips, but they're totally happy. I was honored to help those guys.
Whitney: [00:19:49] Do you also have clients that pray over their homes and write scriptures on them on the frame of the home as well?
Stuart: [00:19:57] Yeah, we get a lot of that. That's that's our culture, that's our background. We're not selling houses, we're reaching people for Christ and giving to the kingdom. John Houston embedded that in us years and years ago. Nobody's a number, everybody is important. Personally, I don't want any upset clients. It's my job to make them happy and help them love their home. That's what it's all about.
Whitney: [00:20:27] I know I get a lot of questions on the phone from people about floor plans. You get 3 or 4 times as many questions from people that come into the Model Home about certain features in the home. We can tell over time what more people are asking for. Are you ever able to give offer advice or input into new floor plans that we create based off of what people are asking for at your Model Homes?
Stuart: [00:20:55] Yeah, that's a good question. I have people that try to modify homes or sit down and want to sketch things up. We've got an Architectural Team. What I try to steer people away from is going and redesigning an entire house. For one, it takes a long time for that to happen to. Two, a lot of times you have to ask them, what's your budget? In doing a full custom house and a full redraw. it becomes quite costly. The houses that we've put together are efficiently built. Not only with the framing, the electrical, all those items, but they're also done so that it doesn't cost our clients too much money. When you full custom, it does end up getting a little bit higher. Before I take that next dive into sketching something on a piece of paper, I try to show them a couple of floor plans that we have based on our consultation. What they've told me they're looking for. We'll go look at a floor plan if they're telling me they want three masters. I'll explain to them how we can achieve that with one of the plans that we already have so, it's not going to cost them too much money, because everybody has a budget. Nobody wants to buy a house and only spend money on the house. They want to be able to go out. They want to be able to take care of their kids, take care of their mom and dad and go on vacations, which is a big one. I want them to be comfortable. We sit down and have a good,long consultation. In the whole process, some people will come in after doing research and they'll say, " OK, I'm ready to purchase this home." Most people need a couple weeks. I sit down and figure out exactly what they're looking for. If I need to sketch some stuff up, we can sketch some things up and kind of come to an agreement, then we move forward with it. It's normally about a 1 week to 2 week process.
Chelsi: [00:23:04] I think what's important for people to know. For as much information you can find online, as many floor plans as you can go through and do a lot of research, but there's still that human element of just talking it out and asking those questions. You may think, well, nothing fits what I'm looking for, but you don't know until you ask. You can say, well, this floor plan fits it and this floor plan fits it, so let's see how we can make those 2 work together or with some redraws. I think that's good that you're able to look at different situations and kind of piece it together for that goal that they have.
Whitney: [00:23:48] Do you ever get a request so many times that you're say, okay, I've got to bring this up to the Architecture Team or to the sales manager and let them know that, " hey, we're getting this request a lot. Just FYI, you might want to think about putting it in as a base plan option."
Stuart: [00:24:07] Yes. Years ago, I was notorious for adding square footage to the baths and showers. It seemed like every house, somebody wanted something done to the shower. Finally, the guys got in there and gave us a Deluxe Shower Option, which is perfect. It added, 1 foot and a seat, which made that shower an affordable Luxury Shower . The main thing, is how to create something that fit somebody's needs that is affordable. We've done some one offs and things like, that, but that was the main one. Bay Windows was another thing that people were looking for, as well as, different covered patio options.
Whitney: [00:24:56] I know that shower one's a big deal. My husband 6 foot 6 inches tall. I know that's not the norm for most people, but the shower is a deal breaker for us. If it's too small and we're going to hit elbows on the walls, then it's a no go.
Stuart: [00:25:14] I can talk to you for five seconds and know which plan not to show you.
Chelsi: [00:25:19] It's all about the conversation. You don't necessarily have to do your research an know what you want, but just be open to those conversations. I think that's great. Stuart, we have so many floor plans. People come to you as a source of information and guidance. How do you go about learning the floor plans and the differences, so that you have that knowledge base? What's your process for that?
Stuart: [00:25:45] That is a great question. I just came to Buffalo Ridge Phase 4 at the beginning of the year and just about every floor plan out there was something new to me. I take it personally. I want to make sure that I'm selling my clients the perfect house, not just something I'm thinking about. What I did is I got a list of the floor plans and I found another community where they were building them. I personally went out there to look at the floor plans and got acclimated to them. I went to Mansfield and to Dove Creek in Midlothian. I went to all the different areas that had these different plans. Of course, I picked out my favorites. That was how I studied them. Springside Estates, the larger custom community, i'm very familiar with a lot of those plans. They've got different front end elevations, but the floor plan remains the same, so I kind of know the flow. I've got a few favorites that I tell people about and I'm able to show them. You really have to walk through the floor plan yourself and learn it. That way, you're giving people accurate information on it.
Whitney: [00:26:59] Yeah, absolutely. The the Model Home that you're in now is the Dover Plan. You can't tell on the paper floor plan that it has the 2 story windows above the kitchen that let in all that natural light.
Stuart: [00:27:14] Transom windows.
Whitney: [00:27:15] Yes, the transom windows, those are beautiful. That really helps sell that home. When I walked in there and saw all that natural sunlight, I was like, "this is beautiful, this is amazing!" You can't sell that from a floor plan. You really have to go see it and know it. Being able to walk those homes before, trying to find that perfect floor plan for someone was important, because it allowed you to see details like that.
Stuart: [00:27:39] It's very important.
Chelsi: [00:27:40] You mentioned elevations. I think that it's important for people to know that one floor plan can have up to 10 different exterior elevations. They can look so different from one house to the next to. How do you help people pick the right elevation?
Stuart: [00:27:55] I have several different homes. What I normally do is put the 'C' and the 'B' elevations on my inventory homes. Once they get built, people are able to see those higher elevations. The 'A' elevations are typically all over the place. Those are easy to find because that's the standard one that comes with the cost of the home. We'll look at all 3 of them. That was one of the ways of us keeping great, flowing floor plans and being able to build a multitude of them, but for them not to look the same. You can have 2 of the exact same houses next door to each other. Unless you walk through them, you couldn't even tell. That's how drastically different they are. They went from the traditional brick and stone elevation to Craftsman Style elevations, to a mixture of brick, stone and Craftsman. Of course, like Chelsi said, there's 10 different ones. Each community will have their own set of elevations that they sell, so we're not building the exact same looking house in every community. I've got 2 other communities that are within five minutes from me. We're all doing something different and that's what, I believe, separated from the competition. We've got that sort of thing going on.
Whitney: [00:29:31] I know you recently added an elevation. I think it's the Hartford or the Helena, that has more of that modern Farmhouse look and Farmhouse exterior, that I hadn't seen before. That just really changed it up. I think that we're constantly changing the elevations to match what people are looking for. More people are going towards that Modern Farmhouse look, so to see the exterior elevation match that Farmhouse look was really, really neat.
Stuart: [00:30:05] Yeah, my Model Home is kind of that that style. We kind of made it a beach kind of feel between a brick and stone with the Craftsman style added to it. It's a beautiful house and a beautiful elevation. I picked it specifically because it was so much different from our normal John Houston line up. It was risky, but it turned out great. It's one of those deals where people see it and they like the different look. On those Craftsman Style homes, I am doing a couple of different paint colors out front. You can actually see the lines, you got a different color on the backing and it sets it off. It makes it look really pretty and that's what people want. When you go to your house, you want that sense of pride, that emotion of, hey, this is my home! You want your guests coming over to say, "wow, that's a great looking house. How can I find one?" You say, "Stuart, go call Stuart." It's important to love on your folks, do really well and just create a happy environment. Our full transparency in conversations that happen every week, while we're under construction, helps them so that they don't have a high level of stress. They know what's going on, they know what to expect and they have a sense of when they're going to be moving in the home. They refer you and if they have a bad time, they're not referring you. They're telling everybody about their bad time. We're seeing a lot of repeat clients. Buffalo Ridge has 3 different family members in 3 different houses. I wouldn't have got that had I not helped one person. They told all their families, so now I have the sister and the uncle. They're both out there on different streets. They're holding it down.
Chelsi: [00:32:00] They're probably all inviting you over for Thanksgiving Dinner.
Stuart: [00:32:03] They have all offered me food, yes!
Whitney: [00:32:08] Stuart never misses a meal with his homeowners.
Chelsi: [00:32:13] Stuart, thank you again so much for coming on the show. It was such a pleasure to talk to you today.
Stuart: [00:32:17] My pleasure, thank you for having me.
Chelsi: [00:32:19] Folks, if you want to meet with Stuart, come out to his Model or any of our sales managers, stay tuned. Whitney is going to give us more information.
Whitney: [00:32:24] Thanks Chelsi and thanks again Stuart. For more information about John Houston Custom Homes, check out our website at JohnHoustonCustomHomes.com. You can also follow us on Facebook, Instagram or Twitter. For any other questions or comments, call us at 866.646.6008. You might even get me on the phone as well! Or you can email us at info@jhoustonhomes.com. Thank you guys for listening to our podcast today.
Whitney and Chelsi: [00:32:59] Welcome Home.