Ep. 8_Design Trends & JH Design Studio Experience
On this episode of the Welcome Home podcast, we invite interior designers Lara Bailey & Brittney Dorough in to share their knowledge of what to expect when picking the selections for your new John Houston Custom Home. They share tips and helpful advice as well as what many homeowners are wanting or upgrading in their homes.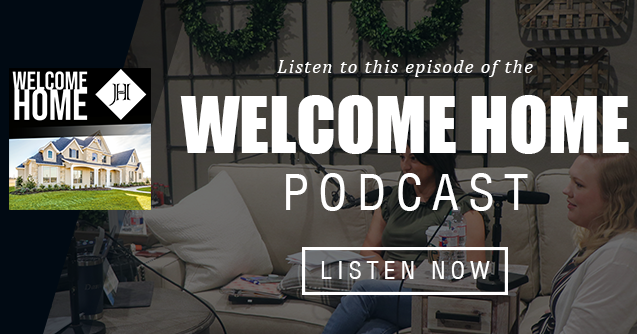 Brittney: [00:00:01] I always try to tell people, "this is your home." When you look at pictures of model homes or you walk this model versus that model, you might go in and go, "wow, this is a beautiful space." When you are in that space, is it more than just pretty, or does it feel like home?
Chelsi: [00:00:18] That was the voice of Brittney Dorough. She's a designer for John Houston Custom Homes. Today, we're going to hear from her, as well as, Laura Bailey. They both work in our state of the art facility in Red Oak at our Corporate Office. We're going to dive into making your house a home, design trends, and the many selections that we have on today's episode of Welcome Home.
Intro: [00:00:41] Welcome Home, a podcast brought to you by John Houston Custom Homes. Join host Chelsi Frazier and Whitney Pryor, as they walk you through the exciting adventure of your home buying and building journey.
Whitney: [00:00:55] Thank you for joining us on another episode of the Welcome Home Podcast. Today, I have Chelsi, our co-host with us. Chelsi, why don't you go ahead and tell us who we have in the studio today?
Chelsi: [00:01:07] I'm super excited today because we have Laura Bailey and Brittney Dorough from our Design Studio here to answer any and all questions about the Studio, What people go through when they decide to build a house? What they can select? What they can upgrade? What they can choose from? I'm really pumped to see what our buyers like, what they ask, and tell our listeners about our amazing space.
Whitney: [00:01:35] The Design Studio is that ultimate moment in the home buying and home building process. It's the the cream of the crop, everyone's favorite time of the home building process. I I kind of relate it to the candy store, right? When you're a kid going to the candy store, that's what the design studio is like for adults. It's always fun to see people go into the Design Studio with these amazing smiles on their faces and super excited to look at all the selections. I have been there a million times and I still love looking at all the selections that they have. It can also be overwhelming because there's so many selections. I'm happy that we have them on today, so that we can go through some of those questions that people, and prepare people for what to expect whenever they visit the Design Studio.
Chelsi: [00:02:25] I think when people are thinking about building a house, they're thinking about more than just how many square feet do I need? What is my room layout? They really envision, what is my living room going to look like? What is my kitchen going to look like? What is my backsplash going to be? What are the trends and how can I make this in my home? They're really trying to picture living in that home, more than just picking out a floor plan, brick and stone and building it. I think it's a really fun experience for the person building a home, when they get to go in there, and see it all come to life right in front of their eyes.
Whitney: [00:03:05] Absolutely. I think they're envisioning living in it with their families. The design element is such a big part of what they are envisioning. I'm excited to have them on!
Chelsi: [00:03:17] Ok, well, let's just jump right in. Welcome, Lara. Welcome, Britney.
Lara: [00:3:22] Thank you.
Brittney: [00:03:22] Hi. Thank you for having us.
Chelsi: [00:03:24] Thank you for coming in. Why don't you tell us a little bit about yourselves. Brittney, let's start with you. Tell us a little bit about you. How long you've been at the studio?
Brittney: [00:03:35] My name is Brittney Dorough. I've been with John Houston Design Studio for a little over five years now. I've really enjoyed my time and my experience here. I've watched trends grow since day one, which have transformed over the last five years. Being able to see where our Company has gone from five years ago to now, is completely different. The Design Studio is a whole new part to this process that's been incredible. Help different clients, day in and day out and helping family members as they come in, is a passion of mine. Getting to know a little bit about the people themself, what brought them here, what they're looking for, their ultimate goals, and what their whole family aspect life is like. I really enjoy getting to meet the people and walk them through the process of an exciting new journey of the new home purchase.
Chelsi: [00:04:37] How about you, Lara? Tell us a little bit about yourself.
Lara: [00:04:40] I've been with John Houston for six years. I was promoted as the Design Studio Manager two years ago. One of my first big projects was building the new Design Studio that, we've been in a little over a year now. It's been a great experience to open the new Studio, welcome all the new homeowners, and all the new product that we were able to bring into the new space, with it being so much larger than the previous space.
Chelsi: [00:05:09] I'm excited to talk about the Design Studio space. The Marketing Department got to work on a couple of small pieces, with signage, how we would be able to have events, and do the big Grand Opening for that. We got to see just a little piece of all the work that went into that. I know it was so much more between you, Darren, our Purchasing Team, and the whole building/design of that project. Our new Design Studio space is 6,000 sf. We went from 1,800 sf. to 6,000 sf. There are literally thousands of selections in the new Design Studio. We have events in there once a month that we can talk about later. Whitney, you worked for not for other builders, so you've seen what other Design Studios look like. When you saw this space, what did you think?
Whitney: [00:06:01] Oh, my gosh, I've never seen anything like it. I've seen studios that big in North Dallas, but those studios, you get your four hours and you're in and out. It's very rushed. There's no sort of personalization to it because it's a third party. It's not really affiliated with the builder. Seeing this space was amazing. To have something like this in the South Dallas area for all of our homeowners, I don't think any other builder has a space like this with as many selections. Most builders in this area are working from a garage. They might maybe have 10 to 20 selections of each item. Some homeowners are left feeling like they got second best. We don't want anyone to feel like they get second best in their home. That's what sets this Design Studio apart.
Chelsi: [00:06:57] Brittney, why don't you tell us a little bit about the length of appointments that people get? Whitney hits on an important point, that other builders in this kind of industry give you four hours to pick out everything in your house. How do you even do that? I know we have full day appointments and we even have Buyer Browses and Open Houses once a month. Will you tell us a little bit about the length of appointment that people have after they've contracted and they're ready to come select the things for their home?
Brittney: [00:07:26] Once a buyer contracts on a home, there is a little bit of a time frame where we're waiting to get back architect plans and things like that. We do have what's called "Buyer Browses" that are now available. For the buyers that are in the waiting period, there is a Buyer Browse that comes every so often, usually on a Monday. Buyers have the opportunity to come to the Design Studio, walk our space, browse the selections, almost like whenever you walk into a store and you're just shopping and looking around. I like this, I like that,take notes, be thinking of, "oh yeah, I can visualize this in my space." It is a great time to take pictures. Your wheels really start turning, on what you like, what you don't like and what you want to bring to your designer when you meet with them in person. Then, once your actual appointment comes, it takes a majority of a full day for an appointment for a client to come out. They meet with their designer first. We help walk them through the process. Some of them might already have their notes and pictures of things that they like. It's always really good if they've already gone Online and Googled some images. Pinterest pictures are always great. Anything that kind of helps us envision their vision. We want to be able to look at that and be able to take that, their budget, any of their concerns and bring it to life. Whenever a client walks into the studio, it can be overwhelming because there are so many things to look at, like a candy store. You're not going to like everything in that studio. It's not all for your home. Your photos and any of that kind of stuff help narrow down what would make this your personal home versus somebody else's. We help walk you through the process - the brick, stone, tile, flooring, wall colors, all of it. If someone has a pillow or anything they want to base it off of, you're welcome to bring it. You're welcome to have photos of it. We can take all that into consideration. They also meet with our electrical team at that point in time to to go over low voltage, high voltage all during the day. We walk you through the process. You get a little bit of a break where you can meet amongst yourselves. They can talk back and forth, if it's a husband and wife, make decisions, which is usually around lunchtime. They can come back to us and say, okay, "we've decided to keep X, Y, Z, but we no longer want this one. I want to replace it with whatever it may be." We walk along that process with you. You have the opportunity to put down your wish list and then you can prioritize from there, then you have your finished product of what you're picking.
Whitney: [00:10:11] That's so awesome. I think it's really important to have that break in between where, you know, a husband and wife can come together, not be around other people, really talk amongst themselves and figure out, okay, "are we on the same page?" Here is what are game plan is, this is what we're going to keep and what we're not. I feel like, if your appointment is rushed and you only have, you know, X amount of hours to get it done, it can kind of feel like a whirlwind. If you were to go in there, I feel like, you know, you walk in and you pick everything and then you got to get out. Then you're like, oh, what did we just do? I want to go back or I want to change my mind. That's awesome that you give them the time and the space to breathe and think it out, because it is an important decision. I like that you have added that into the process and you've given them time to really think about their decisions. You've given them additional time with the Buyer Browse to go in and get an idea beforehand, so that they can be thinking about what their selections are going to look like in their home.
Chelsi: [00:11:13] We started having Open Houses the first Saturday of the month a year ago, where people could come in before they're even contracted to buy a house. They're still thinking about, "do I want to buy a house? What is John Houston have in their houses as flooring, bricks, stone tile, etc.?" Have you seen people that come to the Open Houses have a better experience or has it helped in their full day Design Studio appointment?
Lara: [00:11:42] Yes, I think the Open House is just an extension of our Buyer Browse that we offer on Mondays. It's just one more opportunity for buyers to come in, look around and make sure that they're happy with our product before they make that decision to contract.
Whitney: [00:11:58] Both of you combined have eleven years of experience in the Design Studio helping homeowners pick their selections. What is the most upgraded item that you think homeowners choose whenever they're going through this process? Brittney, why don't you start?
Brittney: [00:12:15] I would say the most commonly selected upgrades would be wood flooring and countertops. That's usually where it starts. With the majority of the clients, we're seeing less and less carpet. They want everything easier to clean and wipe up, so wood flooring going through mainly the entry ,extended entry into the family, hallways and most currently with the kitchen and nook area as well. Also, finding that one special countertop piece that really just is eye catching and the statement piece of the whole kitchen.
Lara: [00:12:50] I definitely agree, Brittney, with what you're saying. I would follow that with customizing cabinets and trim options. We see a lot of that right now, where people can bring in different pictures of different cabinetry features, or ship lap in certain areas, things like that, we are seeing a huge trend in as well right now.
Whitney: [00:13:10] Britney, you mentioned wood floors and countertops. I get asked this question a lot, when people call in. What is the most sturdy item you can put on your floors if you have pets that you love?
Brittney: [00:13:24] With wood flooring and with pets, there's really 3 different options I would advise to anyone with pets, depending on how hefty your pet is or even if it goes into family, if you have little ones or things like that, too. We have engineered wood flooring. That is one that is a real wood. It is one of the stronger woods and we do have different levels with different levels of hand scraping details on it. It has hands, scrapes, nicks, anything like that can help hide any imperfection, when it comes to nails, kids rolling things across the floor or anything like that. You can touch it up easily with a furniture pin if something were to scratch on any of those. What is new to our program is called a luxury vinyl plank. It looks like wood flooring, but it's not. It is a waterproof product, which is something that makes it different from the engineered wood. The engineered wood, is still real wood, which means it's not waterproof. Real wood expands and contracts with moisture. Trends are flowing to taking the wood into the kitchen and nook area, people put wood flooring, engineered wood flooring, in their kitchen now a lot of the time, because it creates more of that open space. If you have a transition strip from wood flooring in your family room to tile in the kitchen, that can sometimes shorten your space a little bit. Some clients are comfortable with carrying that threw and some are not. It makes them nervous to think if they had wood in there and it were to get spilled on, then that could be an issue. I always tell people if you spill something in the kitchen, you come in with wet feet and you clean it up, you're going to be okay. If you have a little one, I refer to little ones because I have little ones, so I see this all the time. If you spill or you find a cup that's been there for a while, it's going to be okay. It's mainly refrigerator leaks, dishwasher leaks, and major leaks, it's ruined. Luxury vinyl plank is waterproof, however,if there was a big spill or leak from your fridge, dishwasher, your flooring is not ruined. You would have to remove it from your flooring and let it dry out, so that you don't get mold. Once that's ready, you can install on that one. Luxury Vinyl Plank is better for scratching, as well. It sounds different when you stand on it because it's not actually glued down to the floor. It does have a different feel to the touch. It has a different sound when you walk on it, but it works very well. I actually just installed it in my current home. I have a hefty dog,a one year old and a two year old. My husband made a comment the other day, "how great it is sweeping this floor," or when they throw a toy across it, we feel like, "oh, it's not really much of a concern, it's okay." There's also Wood Plank Tile,which is tile. It's pretty sturdy and also has a wood look to it. With tile, of course, it does feel different. It feels like tile, not an actual wood. Tile can become more expensive than some of our actual woods. That just kind of depends on what your budget looks like, if you want to go that route or not. This is also another good, durable product that we carry for woods.
Whitney: [00:16:54] Lara, you mentioned that custom cabinet work in homes is really popular for an upgrade. Can you give us an idea of what we offer in terms of custom cabinetry?
Lara: [00:17:08] Sure. I think our most popular cabinet upgrades right now are custom wood hoods. A wood hood is a decorative looking cabinet that goes above your cooktop. It hides your vent, so you don't see that stainless steel piece, which is a really popular upgrade right now. Pot and Pan Drawers, underneath the cook top, are nice because you can put all your big pots and pans, pan stackers, and spice rollouts. We also offer appliance garages that hide appliances that you do not want to see. Wood wraps, ship lap around your island,adding posts to the island, and trash roll outs to hide your trash in the kitchen, are really popular right now.
Whitney: [00:18:01] I've seen in Model Homes, where they put the coffeemaker and a little cabinet piece in the bathroom. I think that's so interesting. If you think about it, your morning routine, you wake up and the first thing you want to do is make that pot of coffee, right? You go to the kitchen and do that, but everything else you do, is in your in your bathroom when you are getting ready for work.I thought that was such a great idea! I don't know who came up with that. I feel like we're the only Builder that does that. To have a coffee nook in your Master Bath, if you have the space, you can have your coffee wherever you're getting ready.
Chelsi: [00:18:39] Yes, we have that in our Legacy Estates Model and I love it! That's the first time I ever saw this and I was immediately thinking, "how can I remodel my house and have this between the walk space between my bedroom and bathroom?"
Whitney: [00:18:52] Speaking of all of these custom upgrades, what would you say is the craziest upgrade you've been requested to do or customization that you've been requested to fulfill?
Brittney: [00:19:05] I've had one recently that actually comes to mind that was really neat. This client came in and they love fish. They built a custom plan and had this idea to put a 6-foot long, huge fish tank from the dining room to the. family room, were you could sit, eat and watch the aquarium on the inner side looking towards the dining room.We don't actually build fish tanks themselves, but we were able to accommodate where they wanted it to be. We were able to conduct our structure and build around that area so they can add the fish tank after closing. Just knowing that we're able to customize what we did so that they ultimately can have the finished product that they want afterwards,is really incredible. I've never had anybody ask for that before, and when I saw it, it was so neat. This home had a gym in it which I thought was pretty cool. The whole side was going to be glass. When you came through the hallway, you had a mud bench, which is where you can hang coats, bags or anything. Across from that were these glass doors, if you will, "wall", to where you can access the gym, too. It's a really cool house! It's actually still under construction, but I'm really excited to see it complete when it's a finished product. I want to be able to walk it and see it for sure. That's an exciting one!
Chelsi: [00:20:39] One of our Core Values is Second Mile Service. It sounds like you're really providing that at the Design Studio with our customers. You are really listening to their needs, their wants,their family dynamic and building that relationship with them in order to provide that Second Mile Service. I think that really helps them customize their home in ways that brings their dreams to life, like fish tank, home gym and things like that. I really love to hear stories like that.
Whitney: [00:21:05] I think most of our listeners will want to know what is the typical amount spent in upgrades? I know they look at base prices on our website and they're like, "okay, but how much should I budget for when I'm thinking about what I want to put into my home with upgrades?" What would you say? I know it can vary depending on the community, but Lara, what would you say is the average amount spent in upgrades?
Lara: [00:21:31] Typically, we see about 20 to 40 thousand dollars spent on Design and In Charge upgrades. In charge is the electrical company, which Brittney mentioned earlier. They do the high and low voltage items in your home, which could be adding extra can lights, pendant lights ,under cabinet lighting and they go over your security system options. We actually have a separate office in our studio.yYou will meet with them, and they pull up your plans on a big TV and walk you through all the different options during the same day that you're at the studio.
Whitney: [00:22:06] They're able to go in there, look at their plan and say, "I want an outlet two feet from the corner of this wall so that I can put up whatever special thing I have, wherever I want it."They can pick and choose where those outlets go within reason?
Lara: [00:22:22] Yes, within reason,you can place plugs and outlets in certain places. We do have to follow the city code guidelines for where plugs are placed, but yes, if you want a TV in a certain location, you can definitely tell them where you want that in that meeting.
Chelsi: [00:22:39] Most of our buyers are husband and wife. They come in to make those selections however, typically, the wife is the one making all the decisions. "I want this, this and this in this place. I want this tile in this back splash." Have you seen a shift in that at all? Are men being more vocal now in their choices or do you see where the men more like, "Whatever you want, honey."
Brittney: [00:22:59] I would say in the Design Studio portion of it, mainly the women are still the ones that make most of the decisions. The guys go, "yes, whatever she likes," which is good, that's the right answer and what you should do. The electrical, we usually hear, that it's flip flopped. The women are kind of like, "I don't even know what they're talking about." The men, that's their area for that hour. Other than that, there are a few that kind of alternate back and forth, you know, with men getting into the design, but for the most part, that's what we see.
Whitney: [00:23:32] Another cool electrical feature that I've seen people getting for upgrades is the ,I'm not sure what you call it, but it's for putting up your Christmas lights on your house. Can you kind of tell us what that is?
Lara: [00:23:46] Yes, we actually call it the Christmas light package.
Whitney: [00:23:48] Oh, perfect!
Lara: [00:23:48] They place outlets in certain places on the soffit so, you can easily plug in all your Christmas lights without having to run a bunch of different extension cords.
Whitney: [00:23:59] Before we wrap up, I wanted to touch on Design Trends and get your thoughts on, should homeowners stick to design trends or should they make the home their own? What are your thoughts on going one way versus the other?
Brittney: [00:24:13] Of course, as times change, the trends are always going to change. Right now, one of the big things are painted cabinets, neutral tones with whites and grays. Sometimes I have clients that come in and they might be unsure, as you're asking, you know, on on which way to go. I always try to tell people, "this is your home." When you look at pictures of Model Homes or you walk this Model versus that Model, you might go in and go, "wow, this is a beautiful space and go into another one, " wow, this is a beautiful space!" Try not to be so overwhelmed about just pretty, but think about when you are in that space, is it more than just pretty or does feel like home. You are going to be living there day in and day out. When you walk through those doors of your brand new home, you want to walk in and go, "here I am, I'm home and it feels like home. This is perfect for myself and my family," you know, versus what's trendy and what's not.
Chelsi: [00:25:11] Brittney, you mentioned wanting to go see that client's home once it was done, just to see what that turned out like. It just sounds like you really have a culture of relationships and being really invested in your clients. They probably become more like part of the JH family, is what we call them. I think that's really neat and probably something you don't see everywhere. I want to acknowledge that's a really special thing that we do in our Design Studio with with all of our designers, not just Lara and Brittney, but the whole team I feel really invests in that time with them. Who really does that? Who goes and knocks on the door and says, "hey, I want to see how this space turned out that we really started working on all those months ago", so that's really neat.
Lara: [00:25:51] Thank you, Chelsi! Yes, we really do try to get to know our customers during our appointments. It's not just about picking out the colors while they're there. We like to know where they work, how many kids do they have and what are they doing in their spare time. We ask all these questions during the appointment because we do want to get to know our customers. We do follow up with a lot of our customers via email or sometimes even in person, with pictures of their finished product. They are really excited to show us the final product and how it all came together. We definitely love the relationship side of our jobs.
Brittney: [00:26:29] Yes, I agree with Laura. We really enjoy getting to meet each and every client that walks through the doors, getting to know about their lives and what brought them to where they are today. There's just so much in each individual that makes you who you are. This could have to do with your background or what brought you here to this location at this point in time and it's all for a reason. It can all start with small questions like, where do you work? How many kids you have? All of that really can break down walls, open up doors to share personal information and some heartwarming conversations. That's always really neat, to see that happen, and really is what bonds us to some of our clients. We love that. We want what's best for them and we're excited when they're excited! It's a big deal, this is a big purchase and the next big step in their walk for them and their family. It's awesome that, you know, we have the opportunity to walk alongside them and share that experience with them.
Chelsi: [00:27:40] I love that. What a great way to end the show. Thank you so much again, Brittney, Lara, and the entire Design Studio Team for coming and talking about this wonderful space, our JH Family and all of the fun things that we're doing. Thank you again for coming! I think that's it for us today.
Whitney: [00:27:59] Yes, thank you so much for joining us today. Be sure to click the description for episode notes and to find out when our next Design Studio Open House is, so that you can come visit in person. You can follow us on Facebook, Instagram, Twitter or LinkedIn. Visit our website at johnhoustoncustomhomes.com. If you have questions or comments about this episode and would like to hear your question answered on our next episodes, please call us at 866.646.6008 or email us at info@jhoustonhomes.com.