Ep. 7_JHCH Happy Homeowners x2! (with John and Lisa Smith)
On this episode of the Welcome Home podcast, we invite social media influencer Lisa Smith along with her husband John (@lisalovesdecor on Instagram) in to share their experience with purchasing not one, but TWO John Houston Custom Homes with us. They share tips and helpful advice for those wanting to go through the home building process that have questions.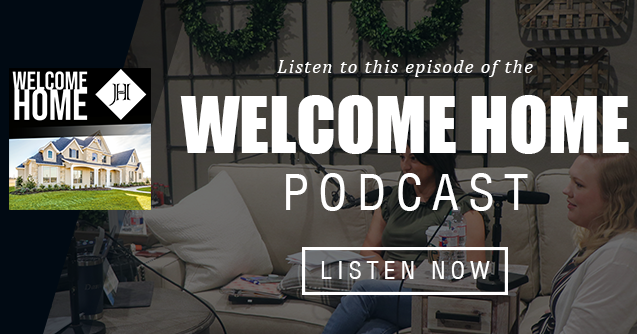 Intro: [00:00:04] Welcome Home, a podcast brought to you by John Houston Custom Homes. Join hosts, Chelsi Frazier and Whitney Pryor, as they walk you through the exciting adventure of your home buying and building journey.
Whitney Pryor: [00:00:18] Thank you for joining us today on the Welcome Home podcast. I have Chelsi here with me, and she's going to tell us who we have on as a guest today.
Chelsi Frazier: [00:00:28] Today we have Lisa and John Smith, who are current homeowners in Legacy Estates, and are two time homeowners with John Houston Custom Homes. We've actually been fan girling over Lisa for a while on Instagram, @lisalovesdecor. We're really excited to have them here to talk about their homeownership journey, the process, the kind of things that they've experienced, and maybe they can help shed some light for our listeners on what they can expect with us. Welcome to the show, Lisa and John.
Lisa Smith: [00:00:59] Thank you.
John Smith: [00:00:59] Thank you.
Chelsi Frazier: [00:01:00] Since we're meeting you for the first time and we haven't had any of these conversations before, can you tell us a little bit about yourself? We can start with Lisa. What do you do Lisa?
Lisa Smith: [00:01:12] I'm a H.R. Leader for a local hospital, Baylor Scott and White in Waxahachie. I've been there for about four years. Initially, we lived in the Dallas area, so getting to move in this area and be close to work has been ideal.
Chelsi Frazier: [00:01:31] John, what do you do?
John Smith: [00:01:32] I'm a Facilities Maintenance Manager at the international airport and I have been there for almost 20 years now.
Chelsi Frazier: [00:01:39] Do you guys have any hobbies? What do you like to do for fun?
John Smith: [00:01:41] I love golfing. I miss golfing and I'm very fortunate to live on an acre. The golf course is closed, however, I've been golfing in the backyard.
Chelsi Frazier: [00:01:56] You've been golfing at your home?
John Smith: [00:01:57] Yes, I have been working on my par three.
Chelsi Frazier: [00:01:59] That's awesome, how fun! Lisa, what do you think about that in your backyard?
Lisa Smith: [00:02:18] John actually loves any sport. He's talking about putting a basketball court in our backyard.
Whitney Pryor: [00:02:26] You've got an acre, so you might as well us it
Lisa Smith: [00:02:28] Absolutely.
Chelsi Frazier: [00:02:31] Do you join him on golfing, or do you have your own hobbies?
Lisa Smith: [00:02:34] I have my own hobbies and shopping is one of them. Lisa Loves Decor is my passion. I love helping others achieve their dreams with decorating. I like it as a hobby and enjoy helping my friends and family. My other hobby is flowers. I do flower arrangements for our home practically every week.
Whitney Pryor: [00:03:03] Really? Wow.
Lisa Smith: [00:03:05] It's my therapy.
Whitney Pryor: [00:03:07] Tell us a little bit about your first John Houston Home experience, because this is your second one, correct?
John Smith: [00:03:15] Yes, indeed. This is the second one and it's interesting to use the word experience. We've found home buying is a systematic process. You go from why do you want to move? Then you go from that to how do I sell? What do I buy? What do I want in the home? All those amenities I want in the home? Then, you know, there's the financial piece.
Chelsi Frazier: [00:03:46] That's a big one.
John Smith: [00:03:46] What we really have enjoyed with John Houston Homes is the whole process. John Houston is able to assist you in all of those processes. That's kind of rare, you know, and so we've had a lot of success with the first one that led us to the second one, which was just as successful.
Chelsi Frazier: [00:04:11] For your first home, you purchased one that was completely built, right?
Lisa Smith: [00:04:14] We did. We found a spec home in the Autumn Run Community in Midlothian. We had a really good experience going through that process with this spec home. Like John said, we had to kind of narrow down what were our needs. At that time, we still had grown, big kids hanging out at home, so we needed space. It was over 3,000 square feet and it was a two story home, so it was ideal, and it was nice to be able to just walk into a home. We had our son, who was the senior in high school, and we of course, didn't want to have to go through the building process and wait, so it worked out perfect for us. John Houston Homes also helped us sell our prior homes. When John talks about this complete process, it was perfect. They were able to refer us for funding. The process was all in one. With both of us having very busy jobs, it worked out ideal. So, yes, that first experience with that pre-existing construction was perfect for a spec home. We did ask for some slight modifications. Our sales person at the time, he was very accommodating and we were really impressed with that.
John Smith: [00:05:38] We were. We pick one and we said, "okay, this is the one." We were going out there every day and they're building this home, then we we looked down the street and say, "hey, there's one."
Chelsi Frazier: [00:05:54] Oh, I like that one better.
John Smith: [00:05:57] Lets go take a look at that one, this one right down the street there. We go in there and we say, "yeah, this is nice." We go back to the representative and say, "would it be a problem if we changed homes?" He said, "well, uh, no, yes."
Chelsi Frazier: [00:06:21] As long as it is a John Houston Home your changing to right?
John Smith: [00:06:25] You're absolutely right, absolutely, absolutely.
[00:06:28] That one stop shop that you mentioned was really key for you guys. It made it a lot easier, is that how I understand it?
Lisa Smith: [00:06:35] Absolutely.
John Smith: [00:06:38] Most certainly. Most certainly. Again, you know, with all those processes that you are really having to kind of go through, it's good to have, you know, one one company that can provide you that assistance. All of those details is really something that is spectacular.
Whitney Pryor: [00:06:56] Walk us through your decision making process and how you guys decided, you know what, it's time for a one story, it's time for us to move. Was it a life change, a life circumstance? What made you decide to switch to a different home?
John Smith: [00:07:13] When you go upstairs to clean spiderwebs and see that half of the square footage is not being utilized, you realize that you are paying for half of a house. It's nice to go upstairs, but as you age, you don't want to go upstairs. You're up there watching the movie, it's great, we're having a good time. We force ourselves to go upstairs to watch a movie. We watch the movie and are tired and sleepy, and now we have to go downstairs.
Lisa Smith: [00:07:57] We got everyone graduated and off to college. It was just big time. It was just the two of us and we also, you know, with me loving to decorate, we would always just look at homes. We always love looking at John Houston Homes so, we would go check out the different communities. We came over to Legacy Estates community and we saw the acre lots. John was like, "Lisa, this would be good. We would not have to worry about neighbors on top of us." All I could think of is, "I get a new house to decorate!"
Whitney Pryor: [00:08:39] Yes, sold!
Lisa Smith: [00:08:41] Absolutely!
John Smith: [00:08:42] You really get that piece of you know, you're saying, well, "I'm downsizing?" Well yes, in a sense you're downsizing, but you are upgrading. You kind of get into that paradigm of both.
Lisa Smith: [00:08:57] Yes, that was the experience for us. We got to know all of the John Houston Homes. I could tell you every single one. I'd study the website. By the way, you guys have a great website. I love the gallery of the homes, the pictures and the 3D tours. I haven't found another builder who can do that so well. We got to know all of the homes and then we would refer our friends to buy a John Houston Home. We had another couple friend that bought the Stockholm with the his and her closets, and I officially got kicked out of the closet! John, he's saying, "we're getting that Stockholm, you need your own closet.
Whitney Pryor: [00:09:45] He was tired of you taking over his space, right?
Lisa Smith: [00:09:45] Yes, we'll call it that. Let's just say, yes, I'm a collector and I'm creative and creative minds are not the neatest.
Chelsi Frazier: [00:09:59] Creative minds need space.
John Smith: [00:10:02] She could tell not only the model of the home, she could look at the elevation and say, "okay, that's the B elevation."
Chelsi Frazier: [00:10:13] Oh wow!
John Smith: [00:10:13] Who does that?
Chelsi Frazier: [00:10:14] Really, Do you need a job?!
Lisa Smith: [00:10:20] We chose the Stockholm. We thought it was ideal. We wanted to go one story and we loved that the master was total opposite of the other bedrooms. That way, if somebody had to come back home, they could still have their space and we can still have our space, and with the his and her closets, it was a win win for us.
John Smith: [00:10:46] Oh, yes. We really like the dining room for entertaining.
Chelsi Frazier: [00:10:54] You have a formal dining room in that floor plan, right?
Lisa Smith: [00:10:56] Yes, we did.
Whitney Pryor: [00:10:57] The Butler's pantry in between is just great.
Lisa Smith: [00:10:59] Yes!
John Smith: [00:11:02] We've hosted 20 or 21?
Lisa Smith: [00:11:07] We hosted 27 last Thanksgiving.
Whitney Pryor: [00:11:11] Did you guys feel like it was enough space?
Lisa Smith: [00:11:15] Absolutely. The Stockholm also has the larger kitchen with the larger island, so we have four counter stools at the island, and then still a bigger space for your what they call the end kitchen dining space. You can still keep family together and it's the perfect home for us.
Chelsi Frazier: [00:11:43] Whenever you came across this home, it was in construction, right?
Lisa Smith: [00:11:48] Absolutely. John is financially smart. Initially, we were going to build. We start looking around and he would always talk to Rob, our sales person and he said, "you know there's going to be one of those Stockholm's coming up and if you catch it in its early phases, you can still make all your designs selections." It's kind of like the best of both worlds in that you're not quite buying but you have ,and I'm going to put it out there, you have a little room to negotiate what you want with this house that's already being a planned spec home. John was saying, "that's the route we're going to take Lisa and you get what you want, okay?" I had all these design ideas that I wanted! I wanted cabinets to the top, you know, lots of things. My list was long, so that worked out really great for us.
Whitney Pryor: [00:12:53] I always like to tell people that when they talk to me on the phone or through emails. It's the best of both worlds when you purchase a home early under construction because you still get to put all of those design details in the home. You also kind of get to negotiate the price still and you don't have to wait for seven or eight months. Instead, you are waiting, you know, five or six months, which is much better.
Chelsi Frazier: [00:13:21] Did you get to go to the design studio, look at all the selections and pick things out?
Lisa Smith: [00:13:26] Oh, we sure did.
Chelsi Frazier: [00:13:27] How was that? Was that a candy store for you?
Lisa Smith: [00:13:30] It was a candy store. I oh, gosh, I went in knowing what I want or thought I knew what I want. Our person helped reign us in because I was getting overwhelmed at some points.
Chelsi Frazier: [00:13:46] Sure.
Lisa Smith: [00:13:46] Enjoying it in a good way like, oh, we could do this and we could do that! John was over there doing this. He was like dollars Lisa. That was a really good, positive experience for us. One thing we did say, we went in with a budget in mind. Now that we're on this side of it and this is our forever home, we said we wish we would have went ahead and spent a little bit more money and did more of those upgrades that we really liked or wanted.
John Smith: [00:14:23] That's the piece that we talked about earlier, in terms of a processes and experiences, you want to be able to work with someone that's going to understand. Okay, well, we're limited finances here, but we have desires of this. The personnel and the staff there were just excellent at that. They would suggest, well, "that's a level five, but we might be able to do this level three." Okay, all right. Then I want to go back and say, "Leslie, use that word experiment there." That was in Spring.
Chelsi Frazier: [00:15:01] Right, yes, so it's listening to what you guys really wanted and desired as far as look and feel in your home, but finding that right fit for you as far as your budget or your space.
John Smith: [00:15:13] Certainly.
Lisa Smith: [00:15:13] Yes.
Whitney Pryor: [00:15:14] We also now offer Open Houses once a month to prospective buyers that are looking to build a home with us. It gives them, you know, even more opportunity to come in, look at the selections, kind of soak it in for a minute and then go back home to think about it before they have their actual Design Studio Appointment.
Lisa Smith: [00:15:35] That is really good.
Whitney Pryor: [00:15:38] Yes, I think a lot of the homeowners have expressed how much that has helped them in making the right decisions. We know it's such a big decision, but it helps to have that second opportunity there.
Chelsi Frazier: [00:15:51] Tell us about living in Legacy Estates, about the community. We've talked to a few other homeowners that live here. I have a friend that lives in this community and they said that people just seem to really know their neighbors and it's a really great community. I was just curious how that's been for you guys?
John Smith: [00:16:06] They're right, particularly on Faithful Drive. We like the word Faithful, but, you know, there are neighbors that assist the others in mowing the lawn.
Chelsi Frazier: [00:16:18] Oh, wow.
John Smith: [00:16:18] They see you out there mowing, they will come out there and start edging. I'm going, "wow, that's great, but that kind of means I've got to go edge his next time."
Chelsi Frazier: [00:16:28] You have to repay the favor!
Chelsi Frazier: [00:16:32] With those larger lots, your spread out to where like you said earlier, you don't feel like you're on top of each other, but you're also still in it in a community, in a neighborhood, and get to know each other.
Whitney Pryor: [00:16:42] It's also neat to move into a new community at the same time as everyone else. You're kind of on, you know, the same ground, whereas when you move into a community a few years down the road, everyone's already established as neighborhood friends. It makes it a little harder to fit in or to get to know people. Being in a new community, you're all on the same ground trying to get to know each other. You're all new. You don't know anyone, so that's a nice aspect to moving into a new community, too, I think.
John Smith: [00:17:14] You're watching it grow, you know, and you're watching everyone's ideals. How they how they decorate the yards or what they bring on. It's exciting! The one thing you don't want is to have a lot of vacant lots. We don't seem to have that problem.
Chelsi Frazier: [00:17:33] We need more lots out here, actually. Everybody wants to live here.
Lisa Smith: [00:17:37] Exactly. That's fun to build, to walk the neighborhood, to see the build process of your future neighbors homes. I could say, "oh, her design choices were great!"
Chelsi Frazier: [00:17:49] Yes, maybe leave your card on the door for when she's ready to decorate.
John Smith: [00:17:55] Oh, I like how they did this! I say, "let's keep walking."
Chelsi Frazier: [00:18:02] Tell us a little bit about Lisa Love Décor. Where did that start and how has that kind of grown?
Lisa Smith: [00:18:07] I started my Instagram account probably about two years ago and I didn't know where I want to go with it. With our first John Houston Home, I wanted to do some really fun things and do some custom work. I started taking pictures of it and my Instagram account grew from there. I'm not quite at 10,000 followers, but I also now am an actual influencer. I started the "like to know what" app also, where you can follow me and you can shop my home. It's been a journey. I don't know quite where I'm going with this, but it's fun and it's a great outlet. I get to express my love for home décor and decorating and, you know, styling my home and making it a home. This is my my critic over here.
John Smith: [00:19:08] Actually, I'm her number one fan.
Lisa Smith: [00:19:09] He's my fan critic. He'll tell me, "hmm, I don't know where your going with that girlfriend" or he will say, "Lisa, that's perfect. How long will we get to look at it before you change it?"
John Smith: [00:19:19] I was just getting used to that!
Lisa Smith: [00:19:27] It's something that's very enjoyable for me. I like to interact with all of the followers. I try to make sure that I'm engaging the audience, also providing tips through that outlet of decorating your home.
Chelsi Frazier: [00:19:42] Yes, I love it. Like you said, you are very engaging. I like to see what kind of questions you pose to other people and inspiring their thoughts for their space and the kinds of things that they like. We just love following your page. I probably am looking at it every day! We appreciate you sharing your space, your love for decorations and making a house a home.
Lisa Smith: [00:20:05] Thank you so much.
Whitney Pryor: [00:20:06] You guys have not bought one, but two John Houston Custom Homes. What kind of advice would you give to that first time homebuyer or that young couple looking to purchase their first home?
John Smith: [00:20:20] I would say to, you know, be transparent. You don't have to feel that maybe I don't want to divulge that information. Be transparent and say, "look here's my budget, here's what I want and reveal that." You're talking to someone that has the capability of really working with you in a holistic manner so, just be transparent, don't hold back. Don't go back and say, "I should have said this or I should have said that," say it.
Whitney Pryor: [00:20:50] That is really great advice because I think if you don't say it, you're not going to get it right. There's a lot of flexibility built into our business. If you really want that change in that home, even though we've already made it a certain way, just tell us. There might be a way for us to work around it or if you're really wanting, you know, a certain incentive, just tell us. We really try hard to work with whatever situation or need every homeowner has.
Lisa Smith: [00:21:18] My advice for a first time home buyer would be if you're considering other builders, to do your homework and understand who you're purchasing from. John Houston Custom Homes is a solid builder and they stand behind their work. This is our second time around, like we said, and with the warranty, we've had no problems. If something went wrong, they have a very systematic approach in how they address your warranty item and they stand by it, which is really important. The resale value is what you want. We did very well selling our first John Houston Home. We were only there, what, three years? We were in that home for three years and we did very well because it was a solid, custom home with really great features. You really want to think about it as an investment. If you can stretch yourself to get the John Houston Home over that other builder, go for the John Houston Home.
Chelsi Frazier: [00:22:25] How how did you experience working with the sales manager help you throughout buying process and in finishing out that home that was in construction?
John Smith: [00:22:33] We talked earlier about the decision on our first home were we selected the home. We talked about, "okay, I like this, but can you put this in here? Can you put that in there? Can you put this in here?" That happened until we walked down the street and we said, "I think we want that one." We go back to the representative and say, "well, we appreciate all that we've negotiated thus far, but we've decided to go for the house that is three down." He says, "well, I've kind of started all those things." I could see a little frustration, but he maintained his calmness, and he realized that, you know what, they are still a customer.
Chelsi Frazier: [00:23:12] Right.
John Smith: [00:23:15] He said, "Are you sure?" I think we are. The wife was standing outside. She sent me in there by myself.
Chelsi Frazier: [00:23:24] Oh, she did even go there.
Whitney Pryor: [00:23:26] She didn't want to give him the news.
John Smith: [00:23:26] "Go in there and tell him that, John." What are you out there for?
Lisa Smith: [00:23:26] I'm right behind you!
John Smith: [00:23:26] Right, Right.
Lisa Smith: [00:23:26] I got your back!
John Smith: [00:23:36] The level of professionalism could have went left, it really could of went bad, but he maintained his level of professionalism and said, "I may not be able to do some of the things that we did down there, but let's just see what we could do." I can't overemphasize to be transparent, tell them what you want. They can't read your mind, but they will accommodate you. The same thing when we bought this home. Rob simply was outstanding. We said ,"hey Rob, we'd like to see a Stockholm." He said, "We don't have one I will find one for you that is safe to walk." We wanted to see what it looked like inside. He worked really, really hard with us. I like the energy that the representatives have. They really listen to you and try to engage with you to find out what you really want. This is a big decision and they know it.
Chelsi Frazier: [00:24:35] Thank you so much John and Lisa for joining us, just sharing your heart, your experience and helping future homeowners and young couples doing this for the first time, feel more at ease. I definitely feel at ease after talking to you guys about it and knowing that you've done it two times. Thank you so much for being on the show. We really appreciate you guys. Also, I just want to say, working in Health Care and at the Airport, thank you for being on the front lines for us. We should have said that already. We just really appreciate all that you do in your jobs and taking care of our cities and our people.
John Smith: [00:25:11] You are so very welcome.
Lisa Smith: [00:25:11] Yes, absolutely. We enjoyed it.
Whitney Pryor: [00:25:15] If you are looking for a design ideas and decoration ideas, please follow at @lisalovesdecor on Instagram. You won't be disappointed. Thank you so much for joining us on this episode of the Welcome Home Podcast. If you would like more information about our homes, you can find us on Facebook, Twitter or Instagram. If you have a question that you'd like addressed on the next episode, please e-mail us at info@jhoustonhomes.com or call us at 866-646-6008.
Whitney Pryor: [00:25:50] Thank you for listening in to this episode of the podcast. We look forward to joining you again in a couple of weeks.